This month is national egg month. Did you know that? I think I did at one time but completely forgot! The people over at Dupont want 1 MyLitter reader to win a Teflon Cast Iron pan to cook eggs in!
The Technique 3 Quart 11″ Lightweight Cast Iron Open Everyday Pan is coated with DuPont™ Teflon® Scratchguard Ultra, so it is safe to use with metal utensils. Some additional benefits include even and energy efficient heating; all the benefits of easy cleanup; it's dishwasher safe; and it's available in 3 colors (not to mention it has a 5-star rating on QVC ). 
We had the chance to try one, and I let the big kids try it out! They make eggs all the time for a snack after school (strange kids I know!) and Emma made some for the kids for breakfast.
I asked her for a review and she was impressed with how easy the eggs came off the pan, we had a fun talk about the difference between this pan and a cast iron pan and the amount of butter needed to make eggs.
Then, I asked her to take a few pictures for me and tell the story of her making the kids breakfast.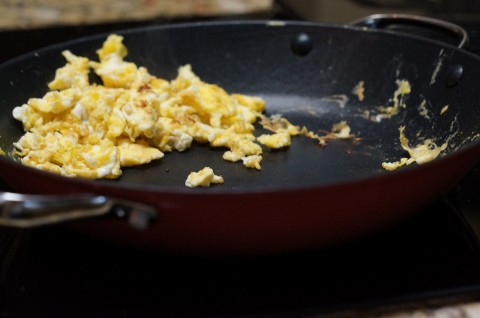 For using a real camera and not a cell phone it was an adjustment 🙂 But he did a great job!
Her favorite part is the fun color of the red pan! Not "boring" like our other dishes!
She also captured the best moment when the littlest stole someones eggs!
Then he got her back!
If you are looking for more ways to win, you can check out  Farberware's FB page, they are offering a chance to win a Triple Pack of pans until May 20th.
::GIVEAWAY:: 
Flash giveaway today! Leave a comment letting us know what your favorite cookware is, and 1 lucky MyLitter reader will win a Technique 3 Quart 11″ Lightweight Cast Iron Open Everyday Pan!  Giveaway will close at 9pm tonight, Friday may 17th. Winner will be picked by Random.org and announced tonight at 10pm.