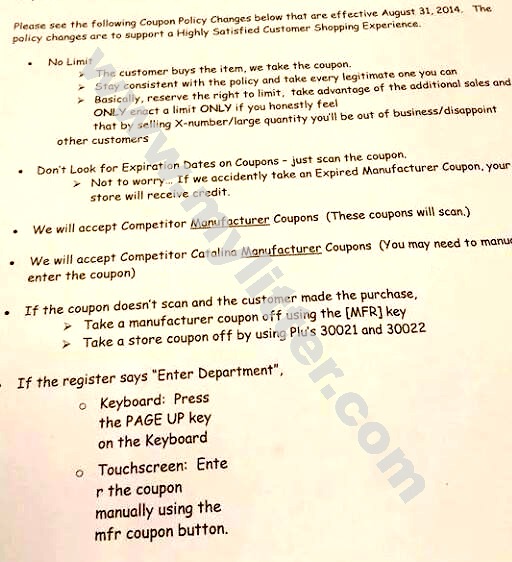 There is going to be a new Kroger Coupon Policy 2014 happening at the end of August. Currently we don't have an official copy of the coupon policy. What we have is a memo sent internally to manager letting them know how to implement the new policy change.  I am assuming this memo was not intended to be handed out, although it was.
The new Kroger coupon policy seems to be VERY coupon friendly and VERY generous. They are making a HUGE effort to be more coupon friendly and accept more coupons.
No Limit on coupons.
Customer buys the item, they take the coupon.
Stay consistent with the policy, take all legitimate coupons.
Don't look for expiration dates, the store will get credit.
Kroger will accept competitor Catalina Manufacturer coupons.
Kroger will accept competitor manufacturer coupons.
Basically Kroger Corporate is accepting the loss of the expired coupon themselves… The store itself will still get credit. 
It appears that there will not be a limit on the number of coupons you can use in a transaction. It also appears that they will be very generous as far as taking expired coupons.
This to me is ABSOLUTELY Kroger going after Walmart…. who is their only major competitor. This new policy CAN NOT BE ABUSED. They will take it back as fast as they put it out. The thing that everyone is going to talk about in this memo is the taking the expired coupons. They are not encouraging the use of expired coupons. That is not the case. They are simply trying to make it easier to coupon.
What is so cool to me is the value that they obviously place on couponers!