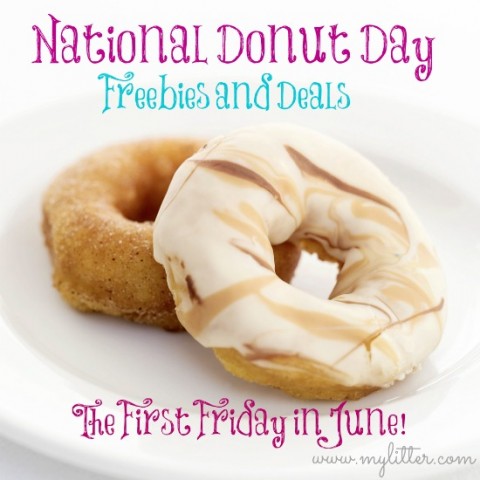 Did you know that this Friday is National Donut Day? Well, that is what I am here for! To let you know about these crazy special days and all the free stuff or discounts that you can get!
Here are some of the deals that you might see Friday. As always, call ahead to your store to make sure they are participating!
Tim Hortons: Free Doughnut with purchase.  Will need coupon from Facebook.  The coupon has not been released yet, keep watching! (credit- May 2013, All You mag)
Dunkin Donuts: Dunkin Donuts usually offers a FREE Donut on National Donut Day. They have the past few years but I haven't seen anything posted for this year just yet….
Kangaroo Express: Stop by your local Kangaroo Express Location for a FREE Doughnut as well as week long deals starting June 3rd.
Krispy Kreme: Stop by you local location and pick up a FREE Doughnut!
LaMars Donuts: Stop by you local location and pick up a FREE Donut!
Shiplely's Do-Nuts: Stop by your local location before noon and pick up aFree Glazed Do-Nut!
Entenmann's Bakery and The Salvation Army have partnered up and from May 1st to June 15th, Entenmann's Bakery will donate $1 to the organization for every person who "likes" the Entenmann's Facebook Page ! (up to $30,000) Also, through June 30th you can enter to WIN Free Donuts for a Year and other prizes!
Thanks Sweeties Freebies & Misson To Save