Yesterday in the mail, you should have gotten your grocery ads. If you don't in the mail, you can pick them up at the store, or look at them online.
This is a good time to look at making a menu plan for the week. Take notice what is on the front page. These are the things the store wants you to see to get you in the store, they are called "loss leaders" and stores are willing to take a loss on them for you to shop there.
PLAN your meals starting with the protein on sale on the front pages of these ads. Since the biggest part of my budget is spent on meat (protein) fruits and veggies. I try to make sure that I am getting my meat/protein as cheap as I possibly can. If I didn't get it from Zaycon, I got it from the front page.
What are we looking at?
T-Bone and Top Sirloin Steak $3.99 lb.
Bonless Pork Loin $1.99 lb.
Whole Cooked Lobster $5 ( Valentines Day Special)
Ribeye Steaks $3.99 lb.
HEB: 
Hill Country Fair Split Chicken Breasts $1 lb.
Meal deal is a good deal this week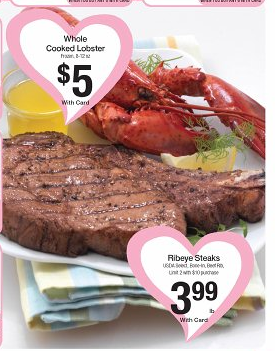 This is a little different of a week. Because we have Valentines day coming up we have steak and lobster on sale. You don't see that very often. The steak is a great price at both Kroger and Randalls and the chicken is a good price at HEB.
Can you get 5 meals out of these items and 2 days of leftovers? I am thinking of a few things real quick…
Steak on the grill one night ( make some extra )
Salad with grilled steak ( for lunch the next day or dinner)
Roasted Chicken (make some extra for another night)
Chicken Tacos
Chicken Casserole (make 2 pans and freeze one for another week)
Anyway, just giving you an idea, and my total out of pocket for all that meat would be around $45 for the week. The same cost as one meal out for our family. Then I will add inexpensive sides that most likely I couponed for, with a lettuce salad. Give it a try this week and see how you do!
I have a bunch of FREE printable sheets you can use if you need them HERE.