As a blogger you have the opportunity to work with a lot of companies. One of my very favorites has been Michael Angelo's for a number of reasons.
Michael Angelo's is family owned (plus the owners GO to conferences and meet people, NOT send someone)
They are from Texas 🙂
Every recipe they use comes directly from their mom, Sara's kitchen.
Small Batch Cooking and Made-To-Order delivery.
No additives, fillers, or preservatives in their food.
When Michael Angelo's sent an email telling me about their new Flat Bread and asked if I would want to try it. I said sure, and so would all the teachers at my kids school! They said, AWESOME how about an Italian Lunch Party on us?! And that is why I love them so much!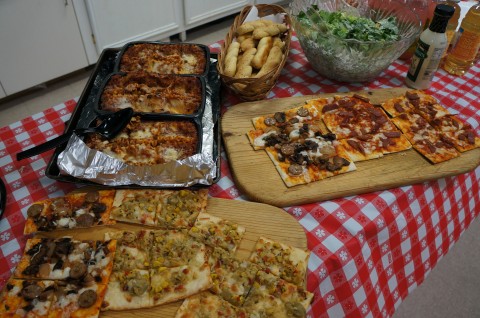 The new Flat Bread Appetizers are on the wood cutting boards and come in 3 flavors.
MEDITERRANEAN FLATBREAD – Artichokes, Corn, and Red Bell peppers and top it all with our Imported Romano and Mozzarella Cheese
SAUSAGE & MUSHROOM FLATBREAD – Italian-style Sausage, Mushrooms, and Caramelized Onions, and top it all with our Imported Romano and Mozzarella Cheese.
PEPPERONI & SALAMI FLATBREAD – Salami and Pepperoni, and top it all with our Imported Romano and Mozzarella Cheese
I liked the Mediterranean best!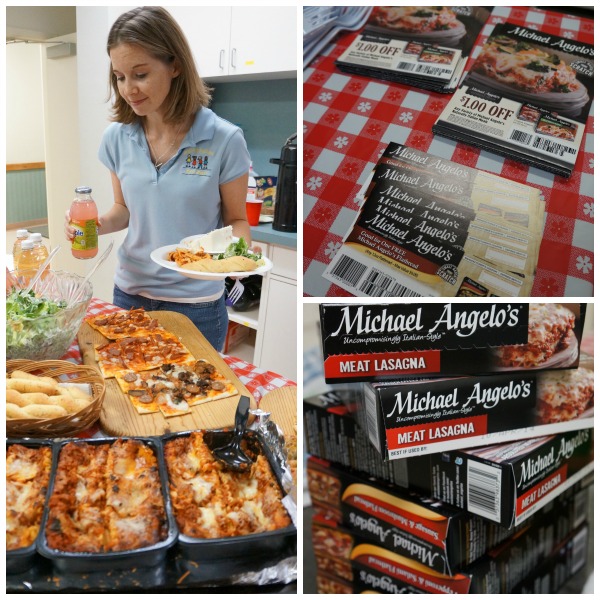 Just a heads up that when I was looking for the Flat Breads they are right by the Lasagna in the frozen section. I had been looking for them in the pizza or the appetizers and didn't see them. My store might have messed it up, but if you don't see them at yours, you might want to look around!
Michael Angelo's sent coupons, free product coupons, and all the makings for a great Italian lunch to honor and say "thank you" to our teacher's on teacher appreciation day!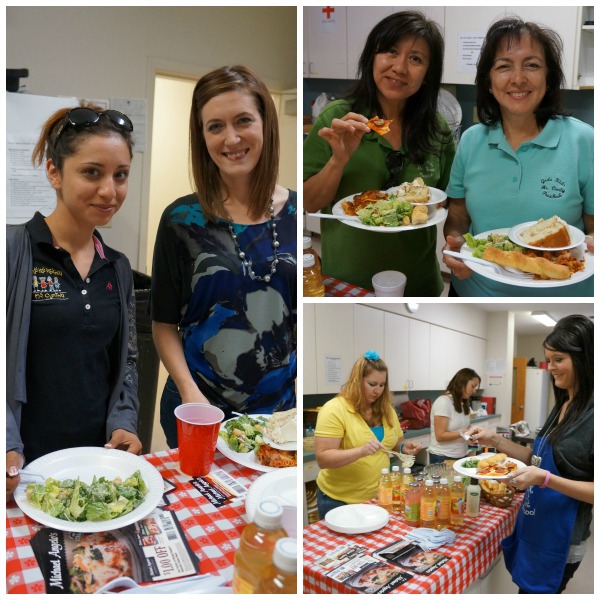 We had lasagna, flat bread, my caesar salad (check for recipe next week!), garlic bread, drinks, and Italian cream cake!
Michael Angelo's also provided 2 giveaway's for 2 lucky teachers after lunch! A fun set of knives for the kitchen, apron and oven mittens!
It was a really nice and fun lunch. My teacher's all deserved to have a day to not worry about packing a lunch, a day to have a few extra minutes to hang out before heading back to the classroom and some good food!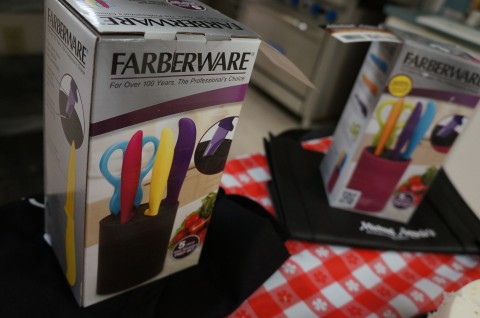 If you are coming to my FREE meal planning class TOMORROW, there is an additional surprise for you there from Michael Angelo's…. just giving you a heads up! 🙂
Also, if you sign up for Michael Angelo's newsletter they send out coupons to you in your email. It is on the right side towards the bottom. 
::OVER:: OK, did you read this far?? If you did, and leave a comment… I have 5 free product coupons left ( I think they were for us, but I am giving them to you guys) that I will give away tonight at 9pm. Just leave a comment, and random.org will pick 5 winners! I will email you tonight and you can send me your snail mail address,  I will stick them in the mail tomorrow!