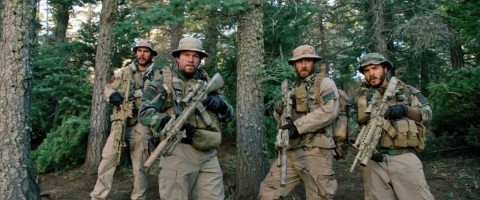 Yesterday my husband and I had the chance to go see a movie together, we don't often get that chance or see R rated movies, but we went to see Lone Survivor. I had read the book a few years ago and it had really touched me for a few reasons.
I remember specifically watching the news in 2005, and seeing the reports of what happened, as much as they were reporting anyway. I had at the time also watched a documentary on Navy SEALS and so was really upset about what had happened. I kept trying to read anything I could on the situation. As soon as I realized the book Lone Survivor by Marcus Luttrell was about that same event, I read it right away.
After reading the book I was just speechless. I don't want to give anything away in case you don't know what happened, but it was such a powerful book and stayed with me for a long time.
Marcus Luttrell, the main Navy SEAL is exactly the same age as I am, and is from Huntsville, TX just up the road. I think about everything he has done and what he went through and I am humbled thinking I need to be doing so much more, and so very grateful that I don't have to go to war. Saying "thank you" just isn't even enough.
If you are thinking about seeing the movie, I say ABSOLUTELY yes. It is rated R, it is about war, and it is really hard to watch. There is a lot of language, I pretty much didn't even notice it, I would take my 16 year old to see it (my husband isn't sure he wants him to see it yet) but I think he can handle it. As far as a movie goes, it is well done, close to the book, filmed beautifully and the acting is superb.
There wasn't a dry eye in the theater as we sat there through all the credits and the lights came on. It was so quiet you could hear a pin drop. You are so filled with emotion it is hard to know what to think. When we went to bed last night, we always pray as a family for the men and women who serve in the military for our country. We have never taken that lightly. But as I got into bed, it just struck me even harder than ever before, how safe I sleep at night because of them.