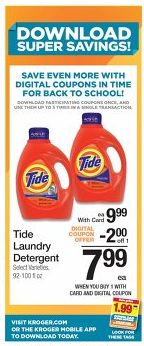 In your new Kroger sale today you will see where it tells you that it is a digital sale. This means you can load some digital coupons to your Kroger card from the Kroger.com site.
It also says you can use some of them up to 5 times in a single transaction. That is exactly what it means, if you do not buy 5 you will loose the discount. So let's say you buy 4 and then come back the next day and buy 1, the coupon will be gone for the 1 you are purchasing. You HAVE to buy all 5 in one transaction if you want all 5 items.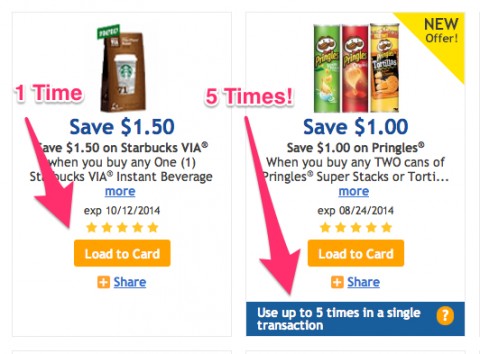 Now, some coupons are only good 1 time. If it DOESN'T say, "use up to 5 times in a single transaction" you can only use that digital coupon 1 time.
I showed you the difference above. You can also only load 150 coupons to your card, it seems like a lot, but in a sale like this you can max out pretty quickly. Just delete ones you are not sure you are going to use to make room for the great ones!
You can NOT combine a digital coupon with a manufacturer coupon. Digital coupons ARE manufacturer coupons. 
This should be a fun sale! Get in there and let me know how you do! Go HERE to see your ad and load your coupons!