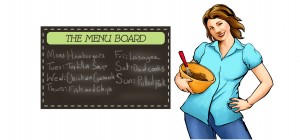 Here are some free printables if you need them:
The first thing we are going to do is see who has the best prices this week on the protein part of our meal, because that is where I spend the most of my food budget. * if you do NOT have the same grocery stores as me, do not worry! just grab your ads or look them up online and see who is the cheapest in your area!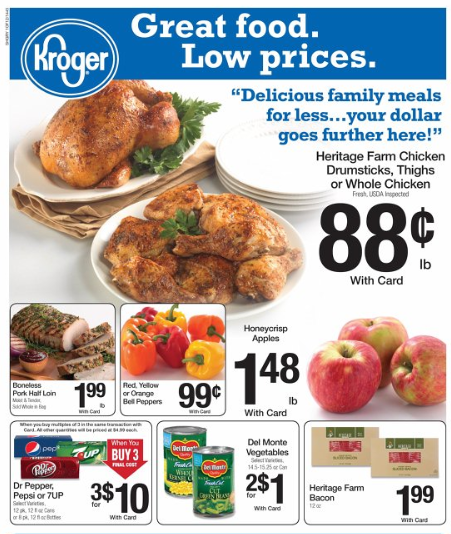 *Make sure to check out the weekly store deals and coupon match ups. You can make a printable list to make shopping easier! Kroger list HERE, Randalls list HERE, HEB list HERE.
** Fresh Selection salads are on sale at Kroger for 2 for $5, so I am grabbing a bag for each nights dinner.
:: THURSDAY :: Buttermilk Chicken – Oven – Kroger $.88/pound – This is a very easy and cheap chicken dish you can make any night of the week. You can also serve just about ANY sides you can dream up, tonight we had green beans. EASY.
:: FRIDAY :: Breakfast for Dinner – Kroger is having a big breakfast event that you can check out on page 2 of the ad HERE. We love to have "breakfast for dinner" with bacon and eggs every now and then. This time what we will probably do is make breakfast tacos with the sausage and get the eggs for free!
:: SATURDAY :: Dr. Pepper Pulled Pork Sandwiches – Kroger pork loin $1.99/pound – You don't get any easier than Dr. Pepper Pulled Pork especially since it goes in the crock pot! Anytime that pork loin is on sale I always stock up! There are just so many meals you can make with pork and they are all really easy! If you are not a fan of Dr.Pepper, don't let this recipe scare you.
:: SUNDAY :: Broccoli Braid – Kroger broccoli crowns $.99/pound, – From Pampered Chef, the Croissant Broccoli Braid recipe has to be one of the most popular. I know that for a while I must have had this weekly as it is so good and easy to make, plus it looks wonderful when you serve it! If you don't like broccoli, don't worry you can make all kinds of different fillings and still braid it up to bake.
:: MONDAY :: Stuff or Hash – Hillshire Smoked Sausage $2.99 package – This is one of our children's favorite meal. Well, kinda a meal…. What gets added always depends on what is left over in the fridge as far as protein goes…. maybe bacon, leftover steak, sautéed sausage, chorizo, or even scrambled eggs. The base of the dish. Potatoes…
:: TUESDAY :: Cheeseburger Soup – Kroger ground beef $3.99/lb or Jennie -O Turkey $2.99/lb. – Cheeseburger soup is a tradition in our house. If we have hamburgers, I always save some to chop up the next night and make soup. If you want to go a little leaner, just use turkey instead. Because the Velveeta is on mega event, this is the time to make it!
:: PRINTABLE GROCERY LIST ::