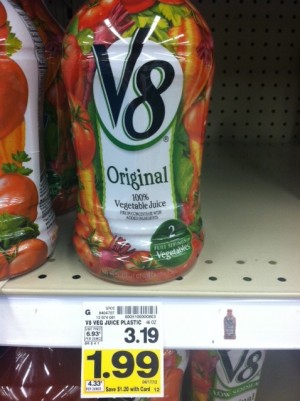 Did you print those V8 coupons when they came out last week?? A few are no longer available, but I was pretty proud of myself for printing them when I had the chance and actually putting them somewhere that I could find them!
This week at Kroger the V8 and the V8 Fusion are on sale for only $1.99, plus and I can't find the picture I thought I took, but the V8 6-pack cans were also on sale.
I usually make a protein smoothie for breakfast everyday for myself and the kids. I have been adding some V8 with apples, ice, and vanilla protein powder and the kids are actually drinking it. I stocked up at $1.99 – the $1/2 coupon (no longer available) and was really happy with that price!
Hang on, there are a few coupons you can get from Campbells.
$1/2 Campbell's V8 Splash Juice, exp. 7/31/12 (Campbell's, Make Game Day A Snap Booklet)
See the weekly Kroger deals and matchups, and make a printable shopping list.