Nikki, just sent me a picture of her 23 lb turkey, that her husband paid $5.66 for! Kroger is running a special where with a $20 purchase you can get a deal on a Turkey.
This is what the ad says: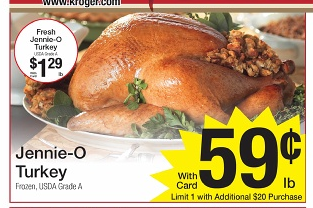 It says $.59 a pound. EVERY Kroger in my area is pricing the turkeys at $.24 a pound! If you are needing a turkey, I would head on over to Kroger!
If you are interested in frying a turkey, Paul just posted directions HERE. 
You can see more Kroger deals HERE for this week to get to your $20 limit.