:: LAST DAY :: We have free milk at Kroger and a catalina deal running at the same time!! When you buy 3 breakfast items you will get a free gallon of milk. When you buy 3 Kellogg's cereals you will get a $2 catalina! Make sure to check the coupon database for coupons HERE
:: Catalina Deal ::
Kellogg's or Kashi Cereal 8.6oz (Valid From  3/3 – 3/30)
Buy 2 get a $1 on your next order Catalina
Buy 3 get a $2 on your next order Catalina
Buy 4 + get a $3 on your next order Catalina
:: Free Milk Cereals ::
General Mills Cereals 10.9-13oz
Post Cereal 11 – 14.75oz
Kellogg's Cereals 12.2 – 12.5 
Kellogg's Eggo Waffles 6-10ct
Quaker Cereal 10.3oz or Instant Oatmeal 8-12ct. 
Quaker Chewy Granola Bars 5-8ct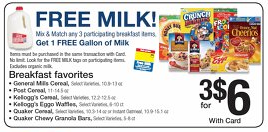 :: DEAL IDEA :: 
Buy 3 Kellogg's Cereals $3/6 
I used $1/3 Kellogg's Apple Jacks,Corn Pops,Froot Loops,Honey Smacks,Frosted Mini-Wheats Little Bites,Kellogg's Frosted Flakes,or Krave Cereals
Total: $5
Got Milk Free
Got Back $2 catalina
NOTE – See below for more details – but you can do the Checkout 51 offer for $1.00 back on 2 Corn Pops, $0.50 on milk and if you are new $2 first time bonus AND you can submit for $0.50 from ibotta make Transaction #1 up to a $1.00 MONEYMAKER!
::UPDATE:: And YES, you can submit for BOTH programs with 1 receipt!

There are also some digital rebate offers you can add to this! There's a new $0.50 back when you buy a gallon of milk offer over at Checkout 51, (3) different $1.00 back when you buy 2 Kellogg's cereal offers, plus if you are  a new member you get $2 back when you redeem your first offer! NO smartphone required, redeem from your PC – start here.
There's also a $0.50 back when you buy a gallon of milk offer at ibotta and a bonus $0.50 back when you redeem the milk offer plus two additional offers. Smartphone required, start here. With ibotta you do NOT have to redeem all your offers from Kroger either, you can redeem offers from other stores while they are available to qualify.