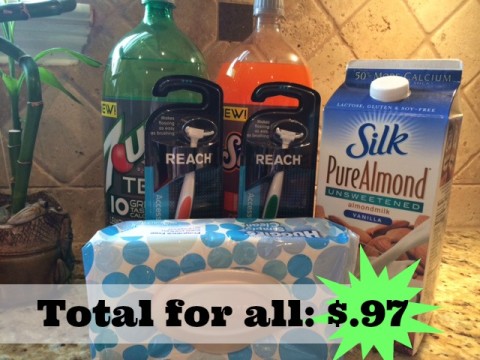 I just LOVE abigail's trip to Kroger this morning, and I wanted to share it with you since she was so sweet to share it with me!
Hello Tiffany, I just want it to share with you the awesome deal that I got this morning.
:: DEAL IDEA ::
Buy 7up 10 $1
Buy Sunkirst 10 $1
Buy Silk milk $1.99
Buy 2 Reach Access Flosser $1.17
Buy Huggies wipes $1.49 wyb
Use 2 $0.75/1 7Up Ten, A&W Ten, Canada Dry Ten, RC Ten or Sunkist Ten Soda, exp. 2/28/14 (SS 01/12/14)
Use $1/1 Silk Half Gallon printable
Use $0.50/1 Huggies Baby Wipes, exp. 2/15/14 (SS 01/19/14)
Use 2 $1/1 Reach Total Care Floss or Reach Dentotape Floss or Reach Access Flosser printable
TOTAL AFTER COUPONS AND TAX: $2.97 and received $2 catalina.
Is like paying $.97 for all that is in the picture! I did it two times, my Kroger is awesome!!
While you are there, do some of these deals: