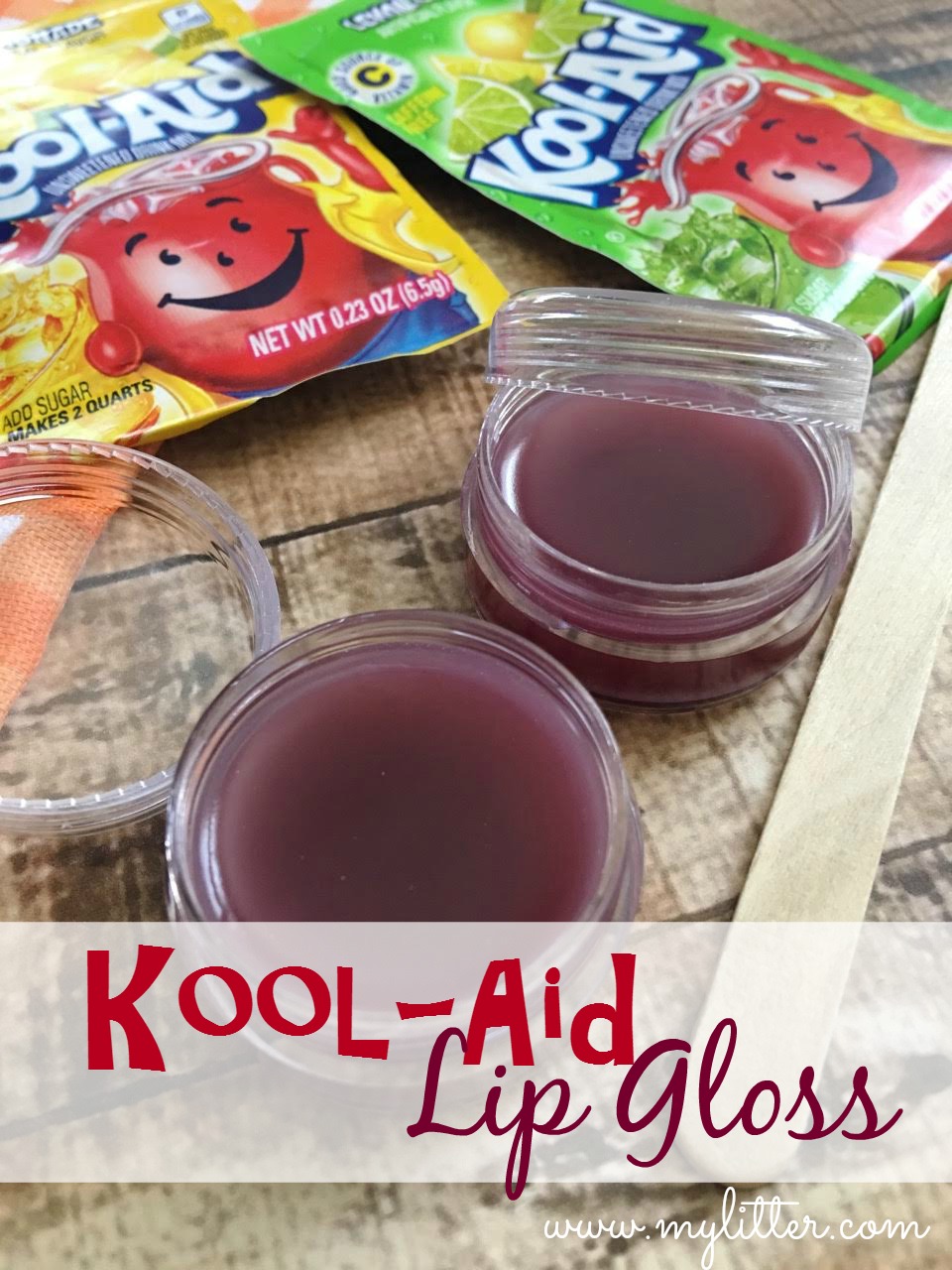 Making your own cosmetics sounds pretty exciting – especially when you can mix in fun flavors.   Little girls will LOVE mixing up this Kool-Aid Lip Gloss DIY recipe.  They can even make it at slumber parties, or as a party favor for their friends!
Best part is – it's a super inexpensive DIY that will take literally only minutes to make 🙂 (Also see more Things to Do With Kool-Aid Packs)
Kool-Aid Lip Gloss DIY
Ingredients-
2 Tablespoons petroleum jelly or coconut oil
1 Packet of tropical punch kool-aid
You will also need-
Small lip gloss containers (Get them super cheap here!)
Craft stick for mixing
Microwave safe bowl
Measuring spoon
Directions-
1. Scoop your petroleum jelly or coconut oil into a microwave safe bowl and heat for 2 to 3 minutes until liquefied (careful this will be very hot)

2. Mix in your packet of Kool-Aid and stir with your craft stick

3. Carefully pour your melted mixture into your small lip gloss containers and set in the fridge for 10 minutes

4. To use: place a small amount on your pinky and rub onto your lips
TIP:  If you have a little Kool-Aid sediment that rests on the bottom of the jar after stirring – try to avoid pouring that bit into your gloss pots.  NOBODY likes to rub a grainy gloss on their lips – gross!
If you liked this Kool-Aid Lip Gloss DIY – you might also enjoy these fun posts!
DIY Coffee Bean Exfoliating Soap
Quick Jelly Roll Quilt Tutorial Part 1 & Part 2