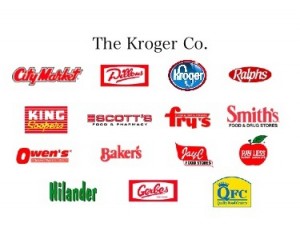 I have a favorite blog that I followed when I first started couponing. I almost quit following them because she always posted deals for King Soopers and Dominick's. I loved her other deals but I needed someone who had deals for stores in my area.
Then one day I realized that many stores are affiliates of 1 main store or company! I also realized that although she was posting King Soopers deals, there were really the same as my Kroger deals!
Take a look at the images above, those are all Kroger affiliate stores. You might have 1 of those stores but can look at the ad for any of the other stores and see the same deals.
**Of course, prices can vary from state to state.
These images illustrate all the Safeway affiliate stores. I have Randalls here in Houston, Dallas has Tom Thumb and so on. Also, some regions ads come out on Sunday with a new ad and some are Wednesday. For example, Safeway ads usually come out on Sunday, my Randalls new ad comes out on Wednesday, so from Wednesday to Saturday we have the same ad.
Why are they not all called Kroger or Safeway? When these larger companies buy smaller chains, many times they keep the same names so people are comfortable shopping there.  (The buyout of Randall's marked Safeway's return to Texas ten years after the original stores in Houston were sold to AppleTree.)
Here are the Deep Discounted Stores:
Aldi – U.S. operations of a German group
Cash & Carry (Chicago)
Food 4 Less (Los Angeles area and northern California; Illinois, Indiana, Kansas, Nebraska, Nevada)
Grocery Outlet (West)
Marc's (Ohio)
Sharp Shopper (Pennsylvania, Virginia)
ShopRite (New Jersey, New York, Connecticut, Delaware, Pennsylvania) – affiliates owned and operated by Wakefern Food Corporation
Smart & Final (West), also owns Henry's Farmers Market and Sun Harvest
Supervalu (Midwest, mixed franchisee-and directly-owned stores, also owns banners including Cub Foods, Save-A-Lot, Acme)
WinCo Foods (West)
Here are the National Chains:
Thanks to Wikipedia!