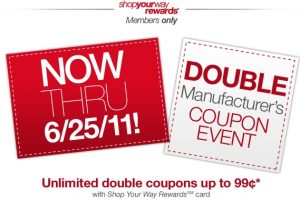 If you have a Kmart, you might want to see if yours is participating in the double event for the next few days!
As I have said, I do not have a kmart and so these deals are brought to you by Cuckofor coupondeals! Check her out!
Kmart will double up to $.99 manufacturer's coupons! It's normally $2, so be aware this week is only $.99!
$0.25 = $0.50
$0.50 = $1.00
$0.75 = $1.50
$1.00 = $1.00
Only 1 coupon will be doubled per item.
You must scan your shop your way rewards card to get your coupons doubled
Kmart won't give you overage.
Note: usually you have to buy $25 in order to do their double coupon event, but this week the ad doesn't state that! So you may just stop buy and get the few good deals.
Look for a Super Coupon book at the Customer Service desk. The Super Coupons CAN be combined with manufacturer coupons – it contains a coupon for FREE Kmart Hand Sanitizer 8 oz. ($2.49 value) coupon.No purchase is required, limit 1.
Kmart Store Coupons – called "super coupons" can't be doubled.  But stack them with a manufacturer coupon and double it and wow you've got a cuckoo deal.
$5 off $50 Kmart in-store purchase coupon via email when you sign up for their mailing list.
Final prices reflect coupons being doubled!
Shop Your Way Rewards Card: Must be scanned to get most deals/rewards at Kmart. Every 1,000 points is worth $1.00. These are easy to redeem – when you are checking out just say you'd like to pay with the rewards you have on your card. I just used $12 in rewards the other day!