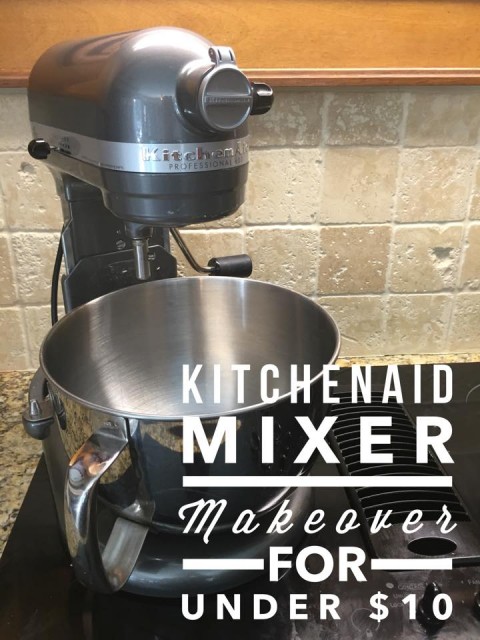 Kitchenaid Mixers are all the rave and are really hard to find around the holidays for a decent price. What makes it even harder is the most popular colors are often sold out as well. What if you could decorate your Kitchenaid Mixer for under $10.00 and make it your own? Doesn't matter what color you actually buy you can transform it into your new favorite piece of kitchen equipment on a budget.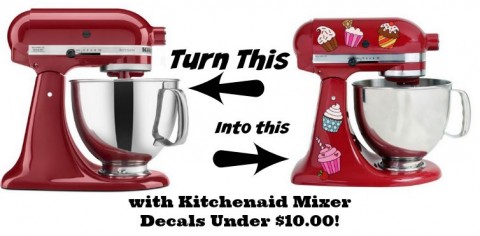 Kitchenaid Mixer Decals are the super easy way to transform your Kitchenaid Mixer. No matter what color mixer you have you can place the decals anywhere you want on your mixer.
Here is a list of Kitchenaid Mixer Decals under $10.00:
1. Colorful Cupcake Mixer Decals $9.99
2. Watercolor Floral Decals $9.99
3. Subway Style Baking Cookies Decal $9.99
4. Sunflower Decal $9.99
5. World War Fighter Plane Decal $9.99
6. Pretty Pink Butterfly Decals $9.99
7. Hippy Daisy Flower Decals $9.99
8. Sugar Skull Decals $9.99
9. Tasty Marshmallow Decals $9.99
10. Flying Butterflies Decals $9.99
11. Leopard Print Decals $9.99
12. Cat Paws Decals $9.99
13. Love Bird Tattoo Decals $9.99
Now another alternative to really make your Kitchenaid Mixer pop is by painting it. You may be thinking this will be a big mess but it's really not. Many people use the popular Chalk Paint as it doesn't take as many coats to cover the existing paint on the mixer. You can also use regular spray paint in addition to enamel spray paint to seal it.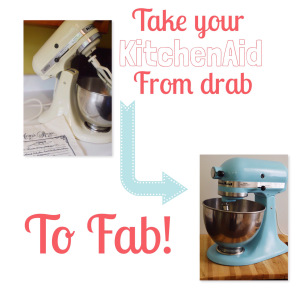 Courtney over at Courtney Crafts did a fabulous makeover on a Kitchenaid Mixer she scored at a garage sale!
Here's what she used to repaint her mixer:
Spray Paint (of your choice)
Enamel Gloss Spray
Painters Tape
Sanding Block (optional)
If you're spray painting your Kitchenaid Mixer, depending on the color you may need to sand it before apply the new color spray paint to the product. In order to cover all areas you may need a screwdriver to take apart your mixer. Apply a gentle light coat first and let dry before applying another coat.
Your other option for painting is to use Chalk Paint. Chalk Paint is affordable and easy to use for resurfacing projects like this. A little goes a long way with Chalk Paint and it comes in tons of different colors your mixer will be one of a kind! Walmart carries Waverly Chalk Paint 8oz Jars for just $5.37 each here. Americana Brand Chalk Paint is the more popular kind and you can find it on Amazon and at your nearby craft store as well. If you are planning on using Chalk Paint follow the above steps as the same with spray painting and you may need to sand down the mixer first and take apart any parts that will come off.