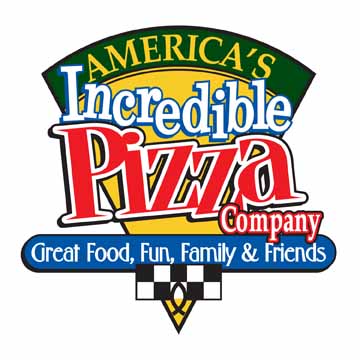 The kids may be headed back to school from Spring Break soon BUT summer vacation is coming up sooner than you think and you'll hear "We're BORRREEDDD" more times than you want to count. We showed you a couple weeks ago how to save when you head to your nearby Incredible Pizza location but we wanted to really show you how cool it is for the kids and even parents inside!
Ok so how does it work when you first step inside Incredible Pizza? We'll share a couple ways with ya:
There will be multiple lanes to go through where you will pick your packages for each person (yes adults have to pay as well) and there is a minimum $7 Game Card purchase per person to enter.
Birthday/Event Counter, you can get in line at the counter if you have larger parties or have an event reserved as we found this easier to accommodate large crowds.
Once inside you can take advantage of the super creative buffet including pizza, hotdogs, vegggies, and more OR you can head straight for the game central
It's all digital now so no tickets or holding onto them the whole time. After you play games that award tickets they are automatically added to the cards. (There are machines you can scan your card at to see how many tickets you've earned)
How can you save?
Incredible Pizza offers free game cards with report cards (better grades means more game card money)
Specials (while we were there they did a dancing promotion where everyone who danced got a free game card)
When purchasing a card pack you can "add-on" the special attractions like Spring Time and the rides for cheaper than buying them separately.
Once you're inside the game central you can check your card balance at this super handy kiosks all over. If you need a game card you can also get one there as well as add more money BUT beware of it not offering change back.
There are more games than you can keep up with. Walking around just to show the kids all the ones available we got lost in all the lights (it's dimly light inside).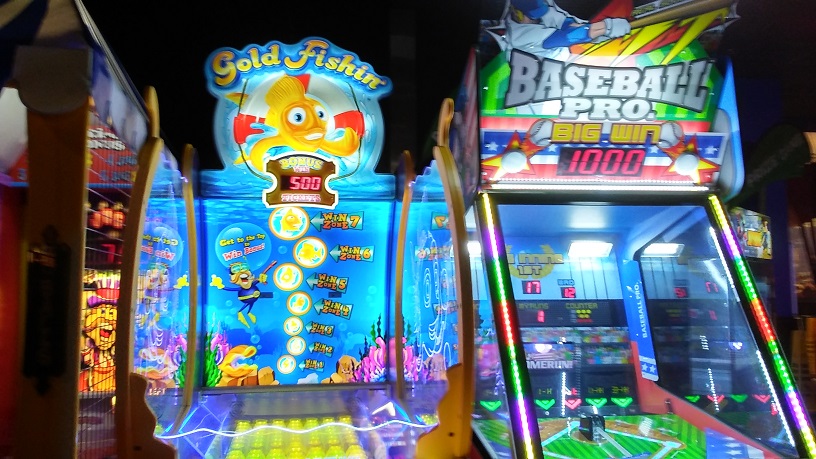 There are separate areas for the tiny kids that have little rides and games that they can play as well. There's also a step up from the tiny kid area that's set apart that has games that the 6-9yr old age range can do by themselves too including "Ice Ball" which is the classic Skee Ball game.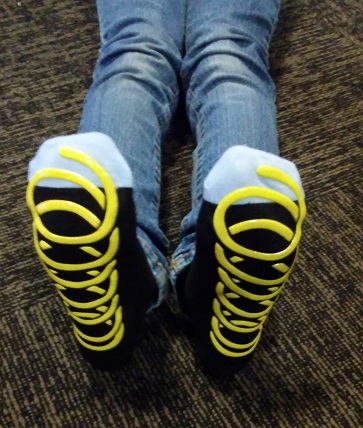 As part of the new attractions at Incredible Pizza there's a trampoline park. We opted for the $27.99 card package and you could add-on 15 minutes of Spring Time for just $3.00 (which saves you $2) and it includes the cost of the fancy socks they give you. Why do you need special socks? These socks have rubber designs on the bottom that help you stop from sliding around and getting hurt. Plus these socks actually say Spring Time on the top so they make a semi cool keepsake for the kids to take home.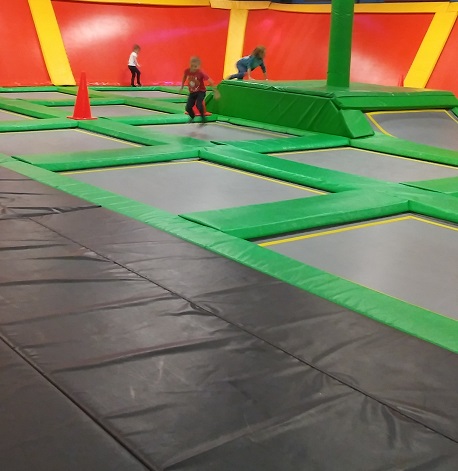 This is the open jump area you see above. They also have a smaller area where kids and adults can get a running jumping start and jump into a soft pit as well as a section where there are basketball goals and balls everyone can play with. I did really like that they have workers walking around all the time keeping an eye on the kids and making sure no one sits down etc.
After nearly 4 hours of eating, playing, and jumping the kids were all tired out and we headed to the ticket checkout center (which is entirely different than I remembered). You can browse openly the prize bins and pick what you want, then you just take it up to the counter and the workers with a super quick scan of their guns get you checked out and you're out the door. (Way faster than it use to be)