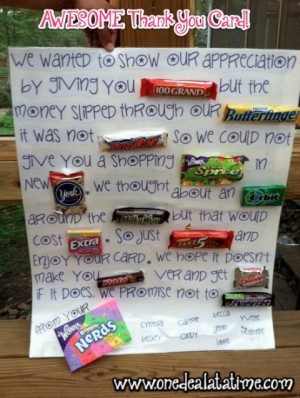 * This is MY photo and a gift to me from my teacher's last year. Do you know this picture was stolen and shared more than 28,000 times on Facebook, with no credit given to the correct source at all? AND, in some cases, my water mark was even cropped off! 
Lately you have seen some AWESOME and beautiful food recipes, crafts, and DIY tips all over Facebook and most are shared, and shared and shared. Recipes/crafts are MEANT to be shared! But there is a correct way to do it and an illegal way to do it!
Also, as soon as a picture is uploaded to a blog/website, it becomes copyrighted. Recipes are also copyrighted. You can NOT copy and paste an entire recipe and repost it on Facebook or anywhere else. You can copy the ingredient list as that is NOT copyrighted but NOT the instructions or photo.
Recipe HERE
Did you know that about 95% of these recipes and pictures are STOLEN content and by "sharing" them YOU could lose your Facebook page? Let me tell you why and why most of YOU are being USED by these Facebook pages for their unethical financial gain.
What goes into creating a post for a recipe on a blog? 
Brainstorming creating a new recipe or adapting an old one.
Making a list, cutting coupons and shopping for the ingredients while dragging kids to the store or finding a babysitter.
Making the meal, dancing around kids with a camera and hoping to not drop it in the food.
Plating the food, taking it outside or setting up good light. This can take up to an hour. Take maybe 50 photos trying to get the RIGHT one!
Uploading the photos to your computer.
EDITING numerous photos over and over to get the perfect one to post for the main picture. Then adjusting the other ones and adding watermarks. This can take hours.
Writing the post. Again, sometimes hours. Making sure you didn't forget anything, finding the perfect title, and scheduling it.
Then you need to add it to Facebook, Twitter, Pinterest, Google + and every other way as a blogger you share with YOUR readers, all with a link back to your site.
Why do I do this? Because I love it, and I love sharing the things that I like with my readers! This takes me HOURS and how can I possibly get paid back for this? You come to my site (which costs you nothing) to see the actual recipe that I took hours to share with you, and I make a few cents from the advertising in my sidebar. Which pays my hosting and the OTHER 2 Mom's that I employee to help me, so I am not working 90 hours a week, I only work 60.
How long does it take for someone to STEAL it from me and post it on Facebook with no link to my site and then have it shared 5,000 times all over Facebook? SECONDS!!
Why does this matter to you? Because the Facebook sites that do this, the cute ones with thousands of recipes and readers, all sharing great recipes (that they stole) they are using YOU. They count on you to share these tips, and recipes, with the intention of building up the page to SELL IT. They didn't create any of these recipes, or make them, or photograph them, they just STOLE them from blogs and Pinterest. These cute friendly pages will sell their FB page and make money off you and me. PLUS, what they are doing is illegal and what you are doing is violating Facebook terms of service.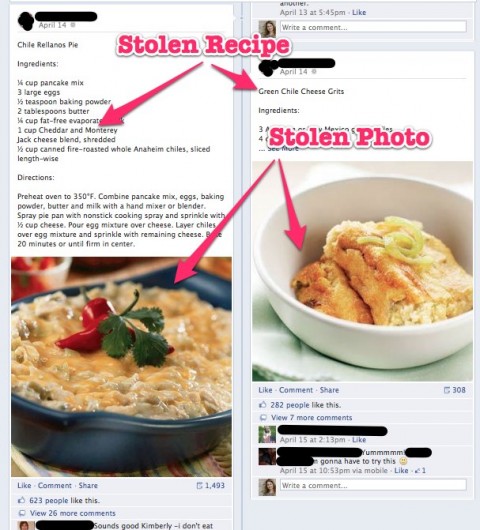 I realize this can be difficult to understand if you are not a blogger. You buy cookbooks right? Recipes are mean't to be shared right?
What if you had a picture of your kids (the photo was watermarked) and someone took it and used it in an ad on Facebook and didn't ask you?  What if they were profiting off of your photo? You would be pretty mad.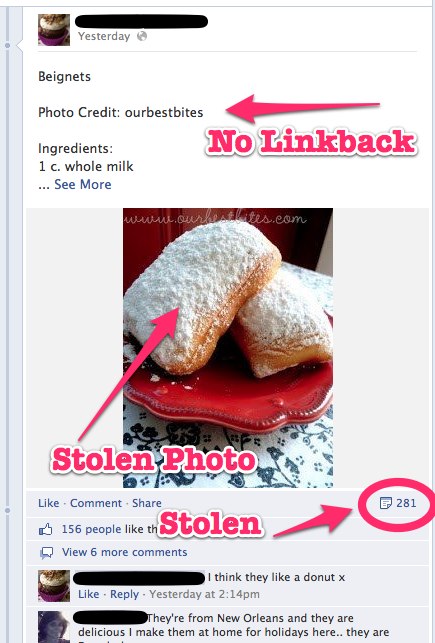 But wait! This photo is copyrighted so that must ok then? Nope! This FB page took it, posted it on their FB page and didn't link back to the site for the recipe. OurBestBites didn't get any credit for this recipe that they took the time to make, photograph and post. Plus it was stolen 281 more times!
How can you share recipes and photos correctly? Easy. Per the LAW… You can share the ingredient list (NO instructions) and link back to the original site. It just takes SECONDS to find the site. Only share a photo if you have ASKED the blogger or website owner. This includes large sites like Pillsbury, and Nestle.
Below is an example of how to properly share a recipe without violating the law and respecting the people who posted it…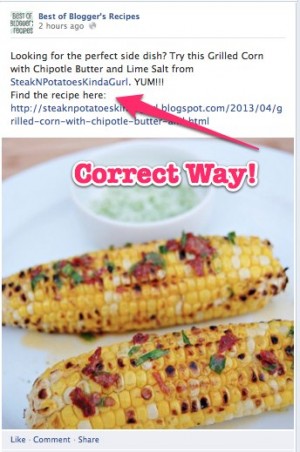 It also only takes a SECOND to google the image or the recipe list to find the original poster and thank them.
Where to repost violations, go HERE. More information from Facebook HERE.