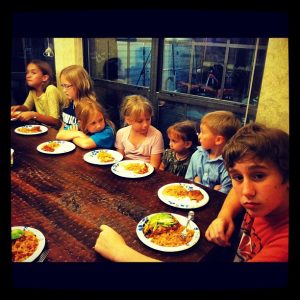 Instagram is a free app that you can get on your iPhone or Android. You can take pictures and apply filters making your pictures really cool and fun to look at! It is right on your phone and you can instantly post your pictures to Twitter, Facebook and even email them.
* I took that picture above this fall. Those are my kids. I realized they were all sitting on the same side of the table and I was shocked how many there were!! When did I have sooo many kids!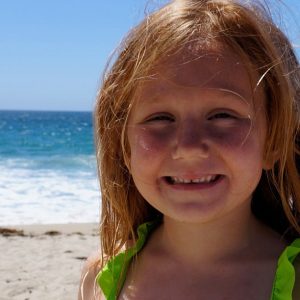 Plus you can tag the pictures and see thousands of other photos with the same tag. To tag a photo you add a # to the front of the topic. Like #kidsatbeach #redheads then you can see other people who have tagged the same kind of photos.
I keep looking for the #juicing #healthyeating and I can see all the other photos people have taken.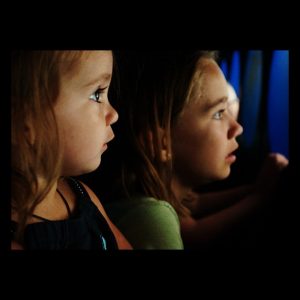 These are my daughters this past summer, the oldest and the youngest. Having this app on my phone makes it so that I can take pictures all the time as I always have my phone on me.
You can follow your friends and family and keep up with them as well. You can follow me at Mylitter. (The site seemed to be down as none of my pics were showing up earlier today)
There is a star looking button in the app that is a "popular" button which will show you all the trending photos.
I use the regular camera feature on my phone and then I import the photo into my Instagram to change it around and apply the filters. That way I have a regular copy of the photo.
The regular photo is on the left and the Instagram after the filters on the left.
* I am posting this recipe tomorrow, just FYI.
Once you have downloaded the app you can play around with it and check out all the different settings. There really isn't anything you can mess up, I promise.
I have found this to be a really good way to keep in touch with the Grandparents that live far away with our everyday lives.
Above is the photo I took on my camera, on the right I cropped it and added a filter to make it a much cuter picture. She is cute anyway, I just made her "pop" more!
Anyway, to wrap up this rediciously long post, Instagram is a fun way to stay connected and take great photos! Go HERE to download the app!