How To Make White Chocolate Popcorn Recipe (Peanut Butter & Pecan)
 – "Pin" me!
Recently the girls and I experimented with making white chocolate popcorn. I am completely HOOKED!
I have always loved the salty and sweet but hated the cost of buying it. We needed a treat for one of my kid's teachers and this was PERFECT! It was soooo easy and amazing I can't believe we had not made it before!
First air pop some popcorn.  I have THIS ONE – but there are several air popper options available that you may enjoy
I had to make 3 batches everyone kept eating it. You could probably use plain microwave popcorn but I have not tried it that way.
Then get some almond bark or Wilton Candy Melts or even white chocolate chips and melt them either in the microwave or in a double boiler. When it is all melted pour it over the popped corn and stir it up.
Next, while the white chocolate is still a little "wet" toss in some toppings! I used chopped pecans and Reeses Pieces on this one. IT WAS AWESOME! You could use ANY finely chopped candy, cookie or nut. Try Oreos, Butterfinger, Heath, etc. You get the idea.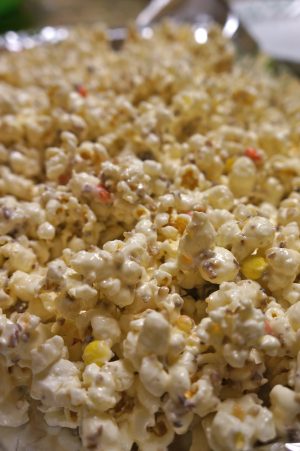 Then pour it out onto a cookie sheet to cool and harden. When it is set up break it apart and store in an airtight container.
I had some really cute boxes I put ours in to give away, I added some whole pecans to make it even prettier for our friends.
This is a SIMPLE and EASY and CHEAP gift to give someone. Give it a try this year!
Stainless Steel Double Boiler Pot for Melting Chocolate, Candy and Candle Making
Superior Material – Made of 18/8 Stainless steel, Rust Resistant, Sturdy, and proper temperature to melt things but not to destroy the nutrition, and prevent burning.

Suitable Size – 2 cups capacity(1/2 quarts, 480ml), designed to perfectly fit sauce pans and smaller pots, ideal for steaming small amounts of foods.

Multiple Uses – Perfect for melting butter, cheese, candy, chocolate, candle making, etc. It also used a normal container. It is a perfect item for your baking and cooking time.

Convenient to Use – Front hook to prevent sliding away, double pour spouts both sides, flat bottom and the handle stayed cool while overheating.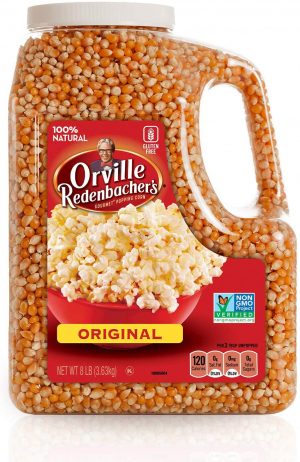 Orville Redenbacher's Gourmet Popcorn Kernels, Original Yellow, 8 lb
Contains eight (8) pounds of Orville Redenbacher's Original Yellow Gourmet Popcorn Kernels

Orville Redenbacher's Original Yellow Gourmet Popping Corn Kernels are premium popping at its finest, giving you delicious popcorn with a crispy outside and a tender inside

Use Orville Redenbacher's Original Yellow Gourmet Popcorn Kernels to make a simple, wholesome popcorn snack on your stovetop, air popper, or electric popper

100 percent natural, Non-GMO Project Verified

100 percent whole grain, gluten-free popcorn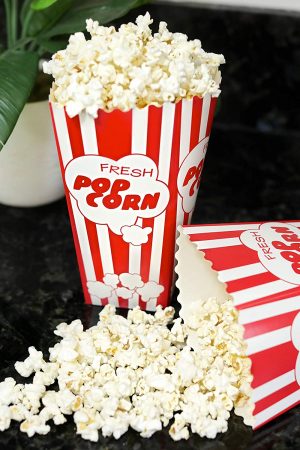 Old Fashion Red/White Popcorn Containers 30 PK
 30 boxes


Simply press on the sides and the box opens and locks into place

Measures  7.75 inches tall

 Disposable

Making the most of your shopping this year? Don't forget to: 
Compare prices to Amazon (Amazon may have changed their price since we posted this!  They frequently change prices to match the major retailers)