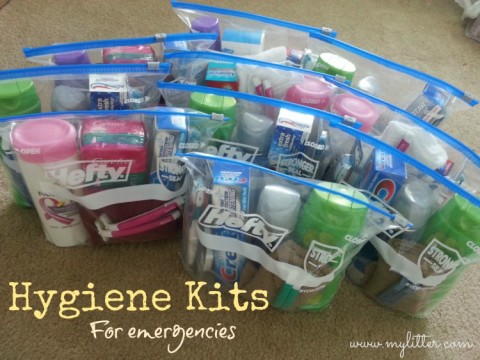 This is my How to Make Emergency Hygiene Kits supply list and tutorial.
These are cheap to make from your stockpile and a huge blessing to pass along to disaster relief. Pin this, share this, email it to yourself so you have it handy then next time something comes up that you want to help with.
How to Make Emergency Hygiene Kits
Making kits is very simple, and when the need arises and I don't have the items I need in my stockpile, I get them at the Dollar store. Hygiene kits provide disaster victims with basic items necessary for health and cleanliness.
Assembly Instructions
2 unbreakable combs (no sharp handles)
4 toothbrushes (packaged)
1 tube of toothpaste (6-8 oz., no pumps)
2 bars of soap (approximately 4 to 5 oz.)
2 hand towels (new towels, approximately 15? by 25?. Please do not use dish towels or washcloths. To sew towels, serge or zigzag the edges of terry cloth to make a 15? by 25? towel.)
Obviously you can make them with whatever you want in them, but for official sending overseas kits, the above contents are what they need to have. Locally, you can do them with anything you have on hand!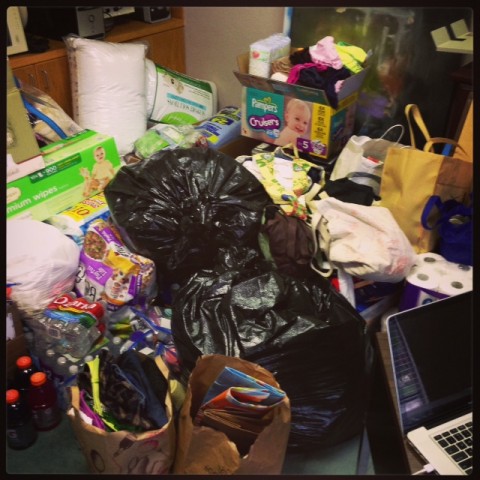 * Thanks Tracy and Esmerelda for the pre-made hygiene kits from a previous relief aid drive!
Now that you know How to Make Emergency Hygiene Kits, make sure to start stockpiling these items when they are on sale to have them ready!