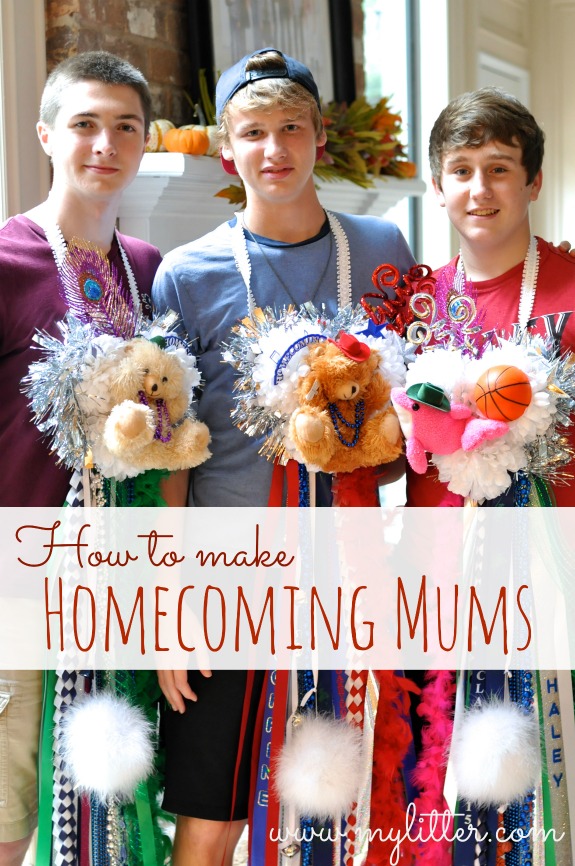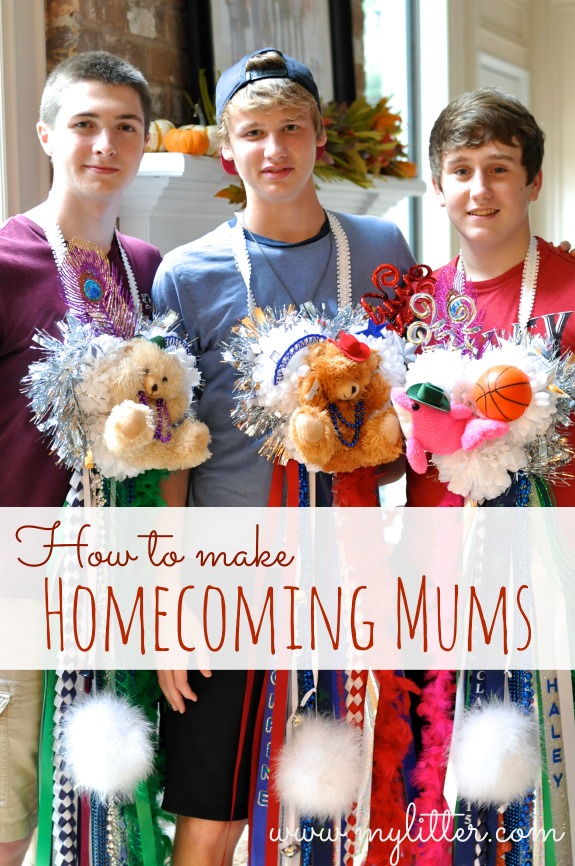 Have you wanted to know how to make a homecoming mum? WAIT, back up… Do you know what a homecoming mum is?? In Texas we have this CRAZY homecoming tradition where guys give girls who they are taking to the game and dance a "mum" and the girls give the guys a "garter" which is a smaller version of the mum they got.
I really didn't know that the rest of the country didn't do this until I was in college. I thought everyone did.
Mums started back sometimes in the 60's. Some guy gave a girl a small mum flower with a ribbon in it to wear to school the day of the homecoming game. Her friends must have thought it was cool and the tradition caught on. It exploded in the 80's with tons more ribbons and larger fake mums, and is still going VERY strong now.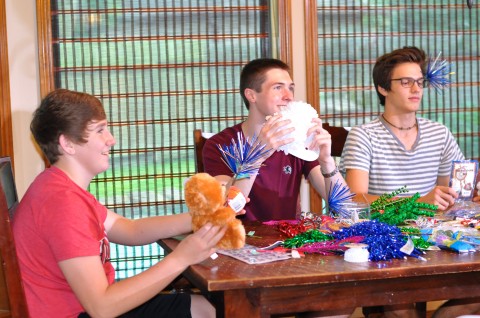 These are the boys during filming
Mums can be store bought or made at home. Go to any craft store in the fall in Texas and they are loaded with mum making supplies. The cool thing about making your own is that you can save some money and you can make them more personalized.
Recently, the guys have been getting together and actually making the mum for their dates. My son had some friends coming over to make theirs so ABC 13 came over to film and you can see that segment HERE. It is very typical for Moms to help their sons make the mums as well.
Getting Started:


Head on out to your local craft store, I went to Hobby Lobby and Michaels. Don't forget your coupons. These are some of the items I bought:
Mum flowers
Mum base
Ribbon ( a med – large mum had 40-50 strands)
Beads
Garland
Teddy Bear
Homecoming Trinkets
Hot Glue Stapler
Thick cording for neck strap
Stickers
Personalized items per girl (like basketball or dance )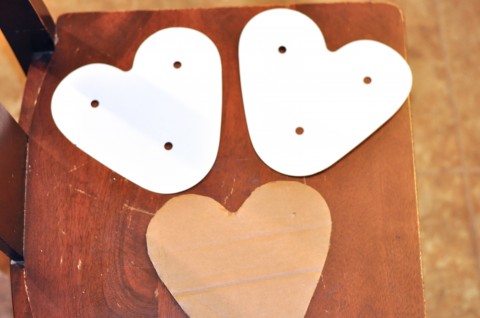 They sell mum bases for the top part that the mum attached to. They come in packs of 2 and I bought 1 for each boy. Then at home I cut out a piece of cardboard to go in-between the 2 in the package, this will add some sturdiness.
You will also need some solid colored ribbon in the school colors. I chose a 1 inch blue, and 1/2 inch green and white. Out of this ribbon I cut 20 3 foot lengths to start the mum off. This is the majority of the ribbon. I bought silver and some sparkly sections to add in. Do the fancier ones more on the top, so they show.
I stapled as many on the cardboard base as I could.
Like I said above, I used the solid colors more on the bottom then added the nicer and fancier ribbon and items to the top. When I got to the beads and heavy items, I had to hot glue those on.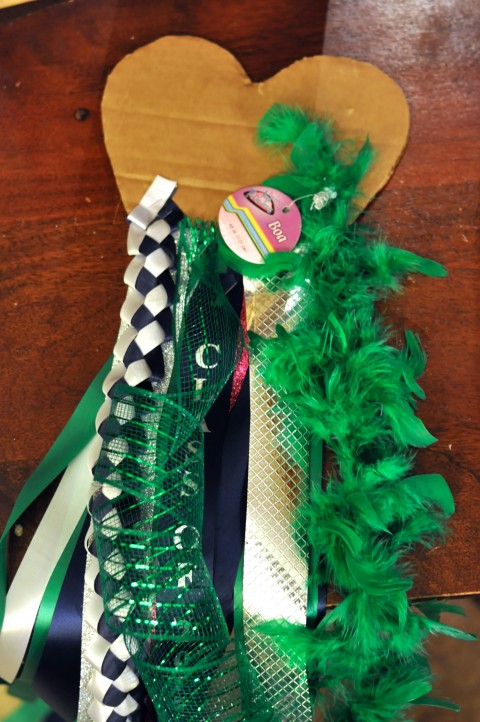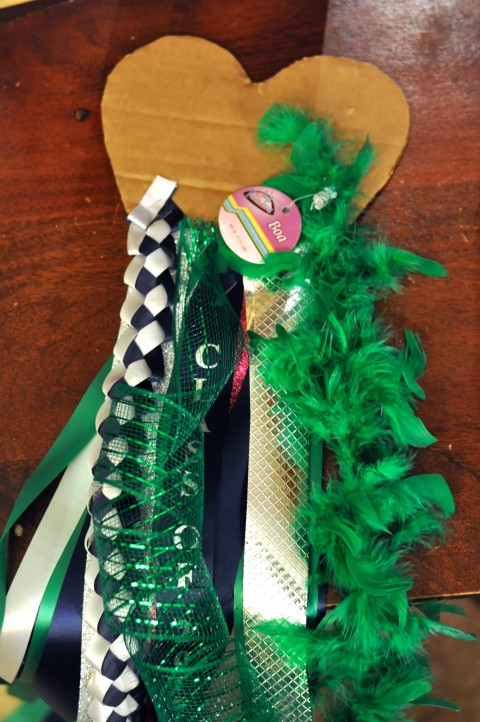 Then I used some heavy cording for the neck strap. When I was in high school we were able to pin them to our shirts and bra strap and they were fine. These are heavy enough that you wear them around your neck. I just used myself to measure the length and stapled it on.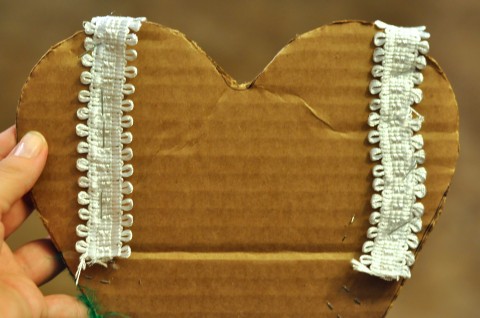 Now that it could hang, I can start adding on the heavy stuff. This is also where I took some Christmas garland and around the brown cardboard you see, I stapled it to give a frame to the mum section. People often use ribbon for this, but the garland was MUCH faster and cheaper even.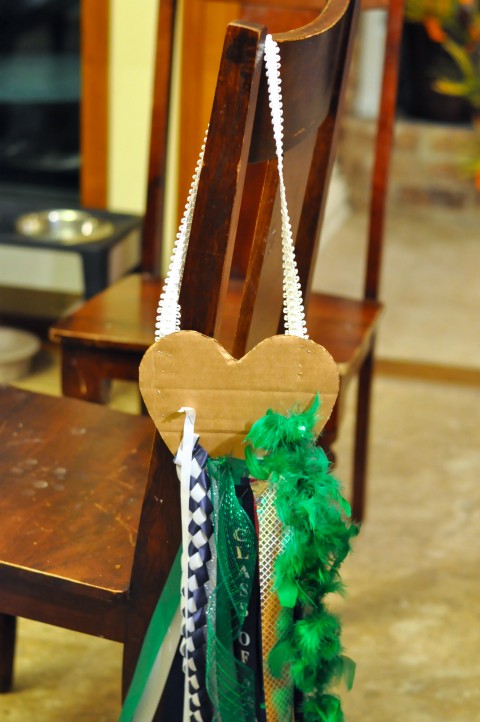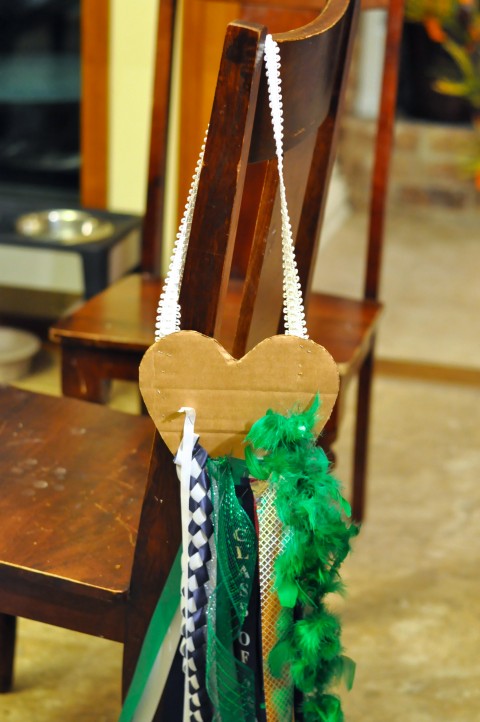 I took the Mum and the base and hot glued them on. Well, actually this is where the boys got home from school and started helping.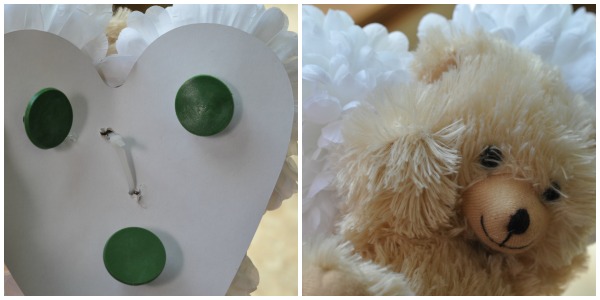 We used a zip tie to attach the teddy bear and hot glued his body in the position that we wanted it to stay in. Traditionally a lot of mums have teddy bears either in the center of hanging off the bottom. My son's date loves dolphins and so he did a dolphin instead.
I used a LOT of hot glue!
This is when the boys really started to personalize their mum, from things the girls like to do to school colors and the year they are graduating.
They were actually pretty good at using the hot glue and were having a lot of fun. They are much more creative then I give them credit for. I had overbought on purpose, so that they had a lot of options, I just returned things we didn't use.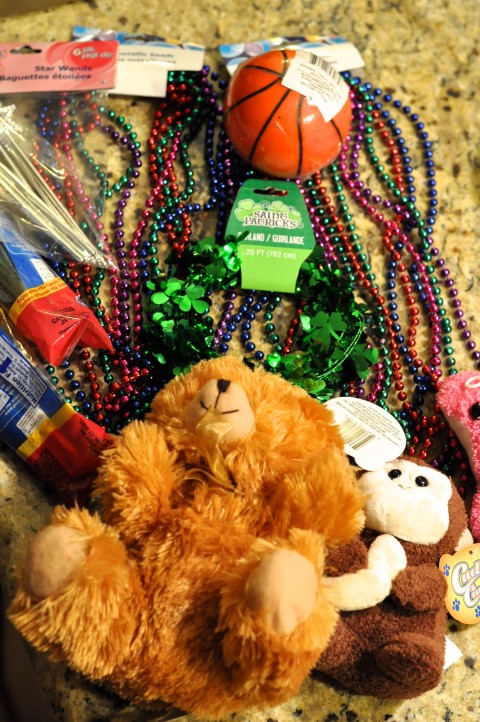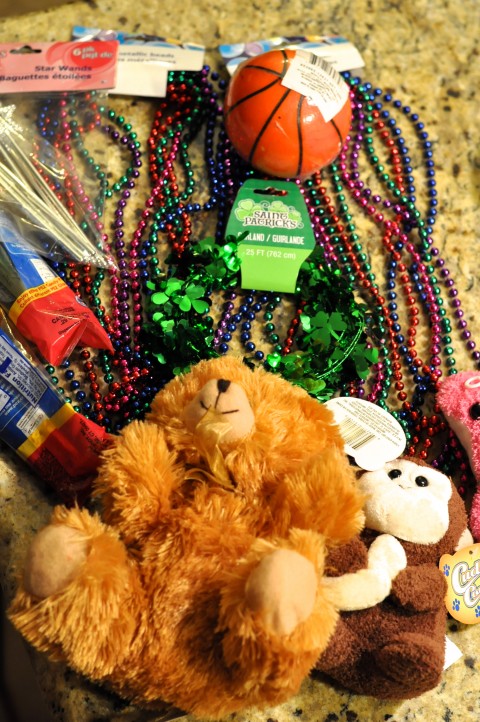 The cost of a mum at a grocery store is about $40 – $250. You can have them personalized for additional money. But of course like anything, you don't get something as nice as if you make it. They use less ribbon and they are not as big.
The mums that we made would have cost anywhere from $150 – $200 in the store. We made them for about $75 each.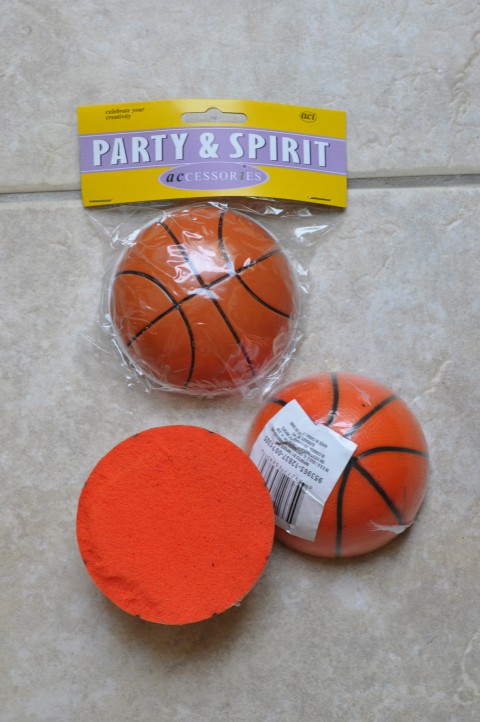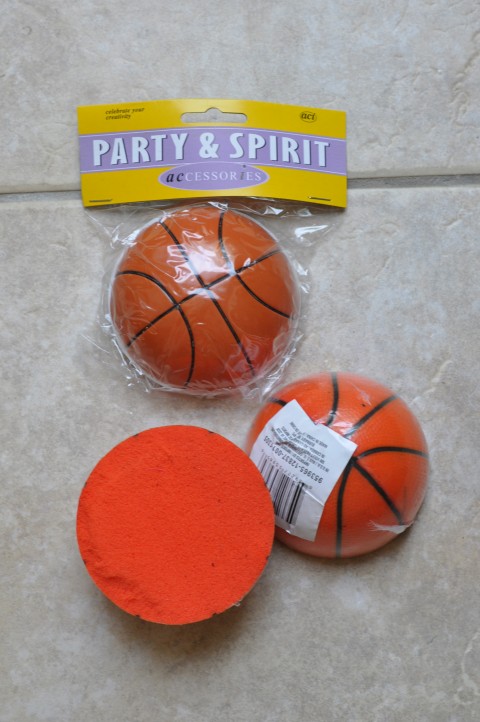 Try to save some money by thinking outside the box. I shopped the dollar stores and the Christmas section at the craft stores. Many of the items sold as homecoming items are priced more but are really just Christmas garland marked up. I used coupons and looked for clearance items.
For example, above you will see the Party and Spirit basketball that was $7.99. I just bought a foam basketball from Dollar Tree and cut it in half for $1. Now I have 2 basketballs for the mums and saved $17!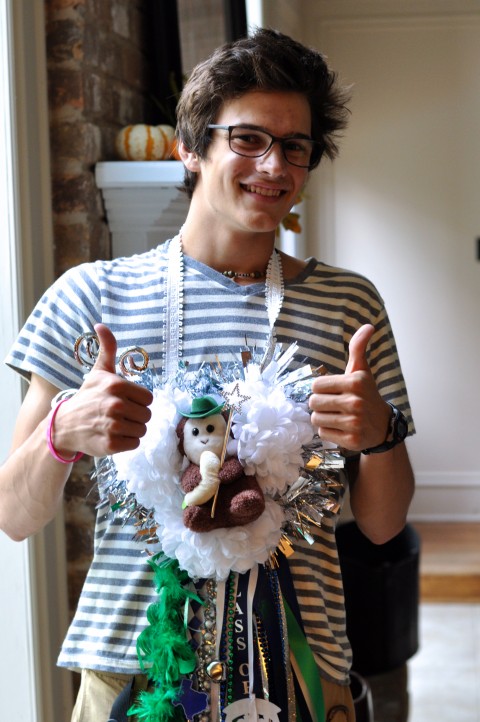 The boys did an awesome job and even more fun was how proud of themselves they were. They are all so excited to give their dates their mums it is so fun!
One of the guys has not asked his date yet, he is doing that this weekend. He is so nervous and worried she will say no. I am seriously nervous for him! He didn't put her name on the mum, but took stickers with him so he could after he was sure she said yes. How cute is that?!
If you are in Texas and need a mum, make sure to make one yourself or contact some of the Moms who make them this time of year to save yourself some serious money!