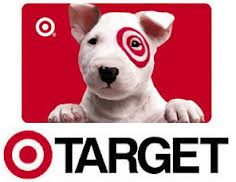 Text STOCKUP to 827438 to get the Target $20 off $50 household purchase Target mobile coupon. Some of the items included are: Air Wick, Febreze, Clorox, Charmin, Glad, Hefty, Scrubbing Bubbles, Tilex, Dawn, Kleenex, Bounce, All, Gain. Tide, and Bounty.
What you are going to want to do, if pull out all your cleaning coupons and Target store coupons. Look for coupons that you can "stack" Target store coupons and manufacturer coupons for the same products. Then you are going to want to get as close to $50 and just a little over to get the best deals. Find coupons HERE in the coupon database.
This is reader Nicole's trip from this morning above! She looked for all the coupons that she had that would matchup with the items included in the sale. Then she got the $20/$50 from the Sunday paper (you can also text and get it) and put together her scenario and headed up to Target!
She used buy $50/$20 target coupon and (4) $1/2 Clorox coupons and (3) BOGO pledge (2) scrubbing bubbles and (4) $5/5 Clorox coupons. You can check the coupon database for more coupons to use in your own scenario
:: Laundry ::
17.99 – Tide 138 oz, 72 load or 150 oz, 96 load or Gain flings 72 ct. single load pack
8.99  – 

150 load downy, 

19.5 oz Unstoppables, 

240ct Bounce and select others

11.99 – 

All 172 oz 96-or114 load detergent

9.49 – Oxi clean 5 lb powder 

or clorox2 66 oz stain fighter and color booster
:: Kitchen ::

14.99 – 

bounty 12 pk giant rolls paper towels

3.99 –  

scotch brite 4 pk heavy duty sponges

10.99 – D

ishwashing 43-60 count cascade 

or 38-45 ct finish

2/$5 – 

palmolive 25 oz liquid dish soap

3.99  – 

ziploc 170 ct sandwich or snack bags

8.99 – 

trash bags, 

30-106 ct glad 

or 25-60 ct hefty
:: Bath ::

2.79 – surface cleaners, 

select 32 oz clorox 

or 48 ox pine sol 

select windex or pledge
:: Cleaning ::
2.99 – Febreeze 9.7 air effects and select others
4.99 – A

ir wick or glade plug ins 2 pk scented oil refills

5.49 – 

Kleenex select 4 pk

4.79 – Up &up facial tissue
15.99 – 

Charmin 16 pk mega roll 

or 24 pk scott 1,000 sheet

18.99 – Swiffer sweep and trap
7.99 – Clorox toilet wand starter kit
Please feel free to post your scenarios in the comments! I will be updating this posts with scenarios as I come up with them!