* The price on this pair above, went up to $39 since last night (still an awesome price). The Black pair of the "pacey" boot and the "Pali" style are still discounted the most, so look for those! 
Be still my beating heart! These MIA Pacey Boots are on sale!!! They are so beautiful and are on sale for $29.99 down from $89 + Free Shipping and you will get 10% OFF code 6PMEU117141087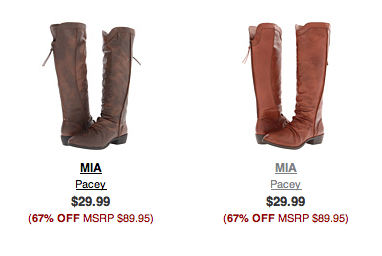 There are a few different colors and even a few more styles, all on sale! Your total on these boots after coupon code will be $26.99 shipped!! Go HERE to get yours!
(Thanks Time2Save)