Have you signed up for Kohl's $5 coupon yet? Well, head on over and do it HERE because it will get you a FREE Big One Pillow!
Once you have your $5 coupon, you will want to go to Kohl's this weekend and grab a Big One Pillow (or anything else you want) toss in something for $1 and you will get them FREE!!!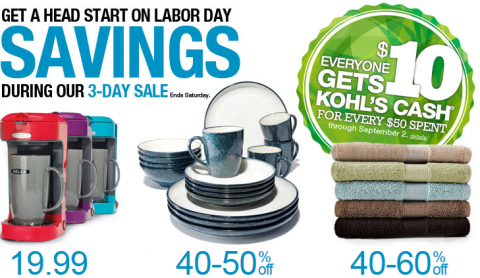 Now, if you don't want to go into Kohl's and would rather order online you can do that too! Don't forget you can earn Kohl's cash and score some AWESOME deals!
Plus you can use the following coupon codes to sweeten the deal:
20% off $100+ Purchase – LUCKY20

15% off any Purchase – GREEN15

FREE Shipping on $50+ order – UGET50FREE
Extra 20% Off Clearance – CLEARANC20 *valid through 9/4
$10 Kohl's Cash for every $50 Spent

Need a Keurig? Check out the deals you can get by using coupon codes!
:: DEAL IDEA ::
Keurig K45 Special Edition Coffee Brewer – $119.99  (Reg $149.99)
+ comes with an included K-Cup 12ct
+ Add an additional K-Cup 18ct of your choice to your cart on sale $11.99
Use 20% OFF code MARCHING
+ Free Shipping Pay $105.58 Shipped
+ Get $20 back in Kohl's Cash
Go HERE to take a look and see what they have!
(Thanks Time 2 Save!)