WOW! TODAY only you can score a SWEET deal over at Family Dollar on some Sparkle Paper Towels! Family Dollar has the 6 pack on sale for $4.75, but you can get a text coupon that will give you 50% off that price today. Then, you can stack a $1 off manufacturer coupon + a $1 off FD store coupon and get a 6 pack for $.87!!!
* Text deals to 28767 to get the coupon.
* Also, I don't often shop at Family Dollar, in fact I can't remember where there is one by me (sad I wish I had one close) and there is some debate on using the 50% and the store coupon together. You will need to go by what your cashier says, and I would encourage you to print the coupon policy and take it with you.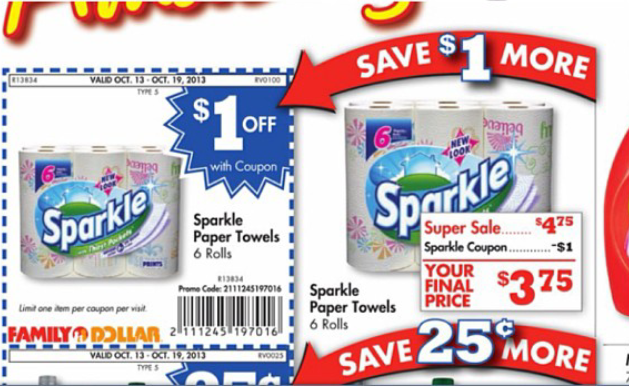 :: DEAL IDEA ::
Buy Sparkle Paper Towels $4.75
Use 50% off Text Coupon
Use $1 off in ad store coupon
Use $1/1 Sparkle Package printable
OR use $1/1 Sparkle Product, exp. 10/30/13 (RP 09/29/13)
OR use $1/1 Sparkle Paper Towels, exp. 12/31/13 (ALL YOU July '13)
Total: $.87 a 6 pack!!!
* See all the Family Dollar Deals HERE