The Hershey's Fruit Pizza recipe is a beautiful and appropriate dessert for Valentine's dinner. This is a recipe I have been making since I was 17 years old and is one that we never get tired of. It is a little time consuming but don't let that scare you. I just didn't want you to start it 1 hour before dinner. 🙂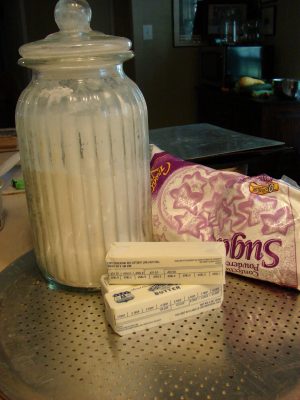 First you have to create your base.
This will be 3/4 cup butter softened, 1 1/2 cup flour and 1/2 cup powered sugar. Now, I always double mine because I like the crust a little thicker….
Then press it into a pizza pan, mine is about 18″. The kids like to help with this part…

Bake at 300 degrees, 20 -25 min. until lightly browned.

Now you need your sauce, or vanilla filling. Did I mention this is really low calorie??? 🙂 Melt the vanilla chips with the whipping cream and beat in the cream cheese.

Spread onto the COOLED crust. I throw it into the fridge at this point while I do everything else. Yummmm, now I just have to keep the kids fingers out!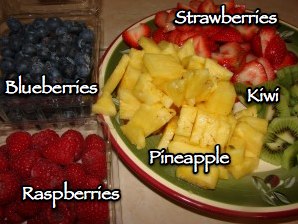 Cut up your favorite fruit (usually whats on sale!) Pineapple is a must, and so are strawberries!  Try to use as many different colors as possible. I also usually use a can of mandarine oranges. Than start spreading the fresh fruit out on the cold crust. This is the kids job!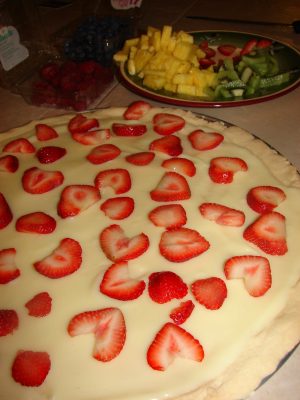 Isn't it pretty?! Throw it back in the fridge or put it somewhere safe so no one can snatch any fruit off the top.

Now it is time to make the glaze. You might be tempted to skip this part because it is so pretty already, but this will keep the fruit on the pizza, and keep anything from getting brown, like if you used banana's. I also double this part. Combine in a small sauce pan until thick and pour over pizza.
I try and pour quick and then use a small spatula to spread it out thinly and evenly…

Here it is, I keep mine in the fridge. You will NOT have any leftovers I promise! People will think you bought it from a store, it is so pretty!
[print_recipe]
HERSHEY'S VANILLA CHIP FRUIT TART
Crust:
3/4 c. butter, softened
1/2 c. confectioner sugar
1 1/2 c. all purpose flour
Vanilla Filling (recipe follows)
Fruit Topping (recipe follows
Heat oven to 300 degrees. Beat butter and confectioners sugar until light and fluffy; blend in flour. Press mixture onto bottom and up side of 12 inch round pizza pan. Bake 20-25 minutes or until lightly browned; cool completely. Prepare Vanilla Filling; spread on cooled crust. Cover; chill. Prepare Fruit Topping. Cover; chill assembled tart. 10-12 servings.
VANILLA FILLING:
1 2/3 (10 oz. pkg.) Hershey's Vanilla Milk Chips
1/4 c. whipping cream
1 (8 oz.) pkg. cream cheese, softened
In microwave-safe bowl microwave vanilla chips and whipping cream at HIGH (100%) 1 to 1 1/2 minutes or until chips are melted and mixture is smooth when stirred. Beat in cream cheese.
FRUIT TOPPING:
1/4 c. sugar
1 tbsp. cornstarch
1/2 c. pineapple juice
1/2 tsp. lemon juice
Assorted fresh fruit
In small saucepan combine sugar and cornstarch; stir in juices. Cook over medium heat, stirring constantly until thickened; cool. Meanwhile, slice and arrange fruit on top of filling; pour juice mixture over fruit.
[/print_recipe]