Tonight the kids and I made a quick Halloween treat for their friends and our neighbors. We often make craft and food projects but tonight I was working with 2 left hands! For some reason nothing was working for me! Thank goodness I have self sufficient children who know how to use a microwave. I am talking about the 5 year old!
This is what they were supposed to look like, thanks to a darling blog called Living Lucurto.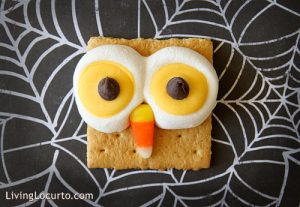 This is what ours looked like:
:: FAIL!! ::
We decided that instead of "Owls" we would make Looney Birds, or even open a shelter for Owl's that needed a little TLC. They were super fun to make, really easy and they taste good!