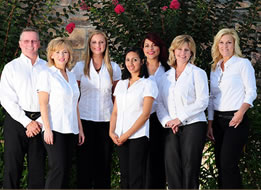 This morning I want to bring you some money saving and interesting information from our dentist over at Laraway Family Dentistry.
It might seem a little strange that I am talking about teeth. But in the past few years with my kids and husband we have really been hit hard with dental problems and bills. My dentist has something really cool and interesting that I am going to share with you today.
Did you know that you can take a simple saliva test that will help determine what dental problems you will have in the future? Which can save you from expensive dental visits!!
P.S. If you have ANY dental questions. I talked Dr. Laraway into checking the comments today to answer any questions. Or if you don't want to ask them "out loud" you can ALWAYS call them and ask. 
From Dr. Laraway: "There is a link  between chronic inflammatory periodontal (gum) infections and systemic diseases such as: heart attacks, diabetes, stroke, some forms of cancers.
Periodontal disease is a type of oral (gum) problem that starts with bad breath, bleeding gums and can end in tooth loss.There are three important characteristics which make periodontal disease worthy of our attention.
1. Asymptomatic – Does not hurt till its latest, final stages when teeth become loose in the bone and cannot be saved. Most times only an X-ray and a dental exam will reveal a presence of this elusive disorder.
2. Irreversible – Most of the bone cannot be recovered during treatment. It is possible however with good oral hygiene, bone grafts and frequent (every 3 months) visit to the dentist to slow down or stop the progression of bone loss.
3. Contagious – As with any bacterial or viral disease it is communicable from person to person. It can target people with weak immune systems. It also occurs among teenagers hence the name juvenile periodontitis."My perio-path" identifies and measures certain bacteria in your mouth that can cause gingivitis (early stage of gum disease) and periodontal (mature) gum disease .
Oral risk HPV -this test detrmines if you are at increased risk for HPV-human papilloma virus related to oral and throat cancers."
Interesting huh? A Simple saliva test can help predetermine so many things and SAVE you some MONEY with dental bills in the future!
To have this test done costs $99, it will take 7-10 business days to get the results back. You can call Larayway's at 936-321-1477 to make an appointment or ask ANY questions!
The experts at Oral salivary diagnostics are working on a variety of other tests which will be available to public in upcoming months. In the meantime good hygiene and nutrition are the best ways to safeguard yourself from a variety of diseases. Next months topic-good nutrition made easy.
Check out all the FREE Services Laraway Dentistry offers!