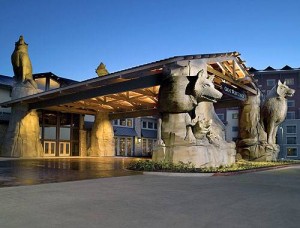 I wrote almost 18 months ago about our trip to The Great Wolf Lodge. It was life changing for me, because I am so cheap, I mean frugal, it was not the vacation we are used to. We go camping. Because we have a lot of kids and it is cheap.
Great Wolf for me was amazing because I did NOT have to do anything. I am not used to that, I was actually able to enjoy myself and play with my kids. I was not cleaning up a campsite, packing and unpacking, loading and unloading a car and cooking over a fire.
Great Wolf costs more. A lot more, especially if you have a lot of kids. When you go it is basically per person. So if you think you are going to be getting one room and cramming a bunch of people in it for the same price it does not work that way. Because the water park price is included, and you get the number of wrist bands that you reserve the room for you have to be exact in hoe many you need or you will be paying an additional $40 a person to get them in the water park. Just FYI. Don't ask me how I know this 🙂
This is the thing though. It is AWESOME when you are there. Everything is taken care of, you are in a resort. They wait on you, your kids play all day, the older ones take off and say "see ya!" and you don't see them again until 11:00pm when they shut everything down. It is safe. They LOVE it.
After going once, we made it a family goal to try and go every 1 1/2 years. We start saving up for it the day we get back. At our house any extra change goes into a container, this is our vacation fund. They can vote and choose where to use it at, they have unanimously chosen Great Wolf the last 2 times. We also drop $10 a week in there from Paul and I, plus, I use my haircutting money and cash back checks from Ebates etc. to add in.
When I was there this time I harassed the general manager into chatting with me for a few minutes and begged him to tell me where you could find the best prices. I had already come to my conclusion but wanted to confirm it with him. The best prices ARE ON THE WEBSITE. Weird I know, but they really are. That is where I got mine and believe me, if it is cheaper anywhere I would have found it.
Here are a few tips to get the best deal:
Sign up for their newsletter. They don't spam you. This will give you the best prices and dates to go.
The further out you reserve the cheaper it is.
Go during the week and during the school year.
When you are a return customer, you actually get a better deal!
If you are a police man, fire fighter, EMT, military active and retired you get a discount!
If you are a homeschooler, they have a HUGE homeschool week coming up that is AMAZING!! It starts September 12th, email them for info. Big discounts and amazing people coming to do shows and lessons.
If you do spend a little more and go over a holiday, they make it worth it. The Christmas and New years celebration is stunning, it snows in the lobby! Halloween is cool, it is all decorated and you go trick or treating.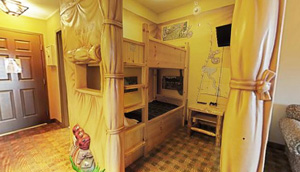 When we go we do NOT eat there. I am sure they don't like that but it is too expensive for a big family to do it.
Here are some tips:
Bring a case of WATER! They have mini fridges in the rooms, we load it full and drink those all day.
We also bring a cooler. I tried to hide it until I realized other people do it to. We packed lunch meat, fruit, milk etc. and ate breakfast in our room and lunch.
For dinner we did go out locally to a restaurant but it was cheaper then in the lodge.
If we had only 2 kids we would probably eat there, but we have a bunch more so I guess I am cheap and do it that way!
This is my wrap up, it is more expensive then say getting a hotel and getting tickets to Splash Town. BUT it is so much nicer and easier for me it is worth it. If my baby is tired, I lay her down in the room. The kids don't have to leave, she doesn't have to sleep in the heat in a stroller, and everyone is happy. The kids WILL NOT be bored! It is a blast. Bring your own food and have a great time!
** If I was in a funnier mood I would tell you about the 4 year old from HELL who harassed me in the baby pool until I kicked him. Just kidding. He kicked me first, so it was justified. LOL!
The fine print: Great Wolf is not a sponsor and did not pay me for this post. I just love the place and wanted to give you a review and tell you how we make it work. They did upgrade my room, however, I think it is because the one we had was originally not available when we got there!