Just a Reminder!
If you have not signed up for Ibotta, when you do between today and Friday you will get $5 when you scan your first receipt!! This offer ends on Friday!
I'm really excited about Ibotta app! It's very simple and streamline making it user friendly and effortless. Once signed up, you'll be earning cash back on items of your choice. I tried this app out and it worked beautifully! I loaded, purchased, and took a picture of my recite via the in-app function and had my money within 30 minutes.

Here's how it works:
Download the free ibotta app.  The app is only compatible with iPhone 3GS, iPhone 4, iPhone 4S, iPhone 5, iPod touch (3rd, 4th & 5th generation) and iPads.  You will also have to have iOS 5.0 or later.  PLUS, now you can get the app on Andriod!
Choose your offers. Once you've signed up and downloaded the app, you'll pick from the offers provided. Earn cash back amounts by learning a fact, taking a poll, or sharing on your facebook wall. All take only seconds to earn.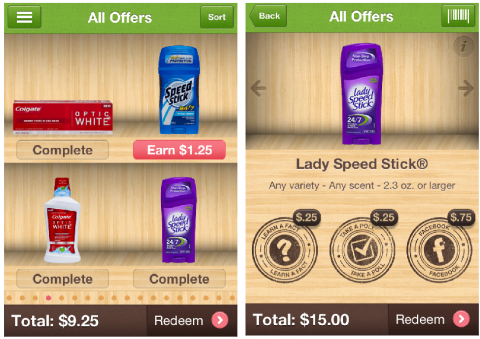 Shop! Ibotta offers are currently available at walmart, walgreens, and target, HEB, Kroger, Safeway and more!(more to be added). Ibotta offers are NOT affected by purchases made with coupons! There is also an in-app bar code scanner to make sure you're buying the correct product.
Take a picture! Through the app, you will take a photo(s) of your shopping recite in order to redeem selected offers and get paid. If your recite is too long for one pic, the app will let you take multiple pictures.
Get paid! After uploading your shopping recite you'll receive credit to your Ibotta account, at $5 you can cash out via paypal. Allow up to 24 hours for credit to be added, although I received mine within 30 minutes.