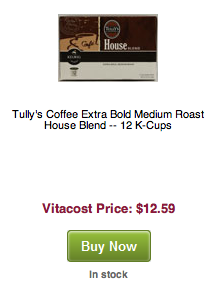 Vitacost.com is offering the FREE $10 Credit for new customers again! They have added Tully Coffee K-Cups!  Once you've signed up check your inbox (or spam) for the welcome email that holds your $10 credit coupon code. If you are a new customer or still have your $10 credit you'll WANT to check out these newly added deals!
Don't forget with each order vitacost.com allows 2 FREE samples of your choice!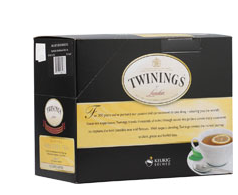 15% Off Select Twinings Teas K-Cups, 25 count – Only $2.75 After Credit + Shipping!

Don't forget that you can get all kinds of Gluten Free items!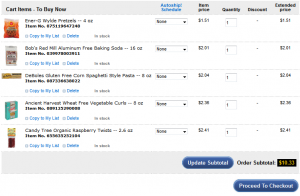 Get 15% Off Select Gluten Free Products – prices start at $1.09, no code required! Look at all the gluten free products I was able to get with the $10 credit. Standard shipping (3-10 business days) will cost $4.99. Go HERE to start shopping this sale there are many products to choose from! I sorted by "Low to High" to find the best prices. 🙂