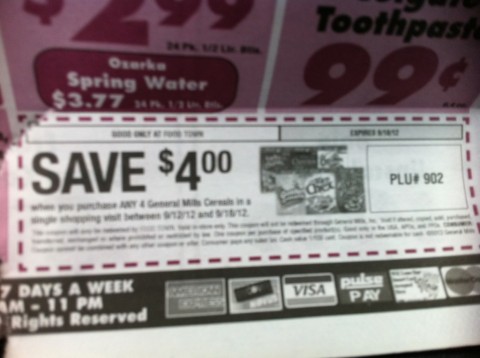 If you live near a food town, you can score a SWEET deal on some cereal this morning, and until Tuesday!
Food Town has an instore coupon for $4 off when you buy 4 boxes of cereal. The sale price is $1.77, stack with the $1 off and then manufacturers coupons and you get REALLY cheap cereal! Like $.27 a box cheap!
Thanks to Bernice and Nikka!!
To find a Food Town near you, go HERE.  For cereal at this price I might make a little trip today! 
::DEAL IDEA::
Buy Cinnamon Toast Crunch, Honey Nut Cheerios or Lucky Charms (11.5-12.25 oz) $1.77
Use $4/4 coupon in store ad
Stack with $1.00 off TWO BOXES of Cheerios cereals
OR $1.00 off 2 General Mills Big G cereals
OR use  $1/3 General Mills dcoupon from 9/9 Smart Source
Total: as low as $.27 a BOX!