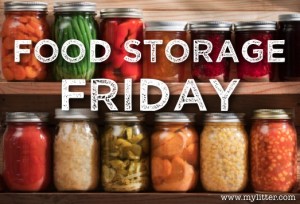 I was really good about posting Food Storge Friday posts a while ago, and not so good this past year. I am trying to make my life easier, and simpler, and with my menu planning I have been using more and more freeze dried food. Which I will post about later on, I promise…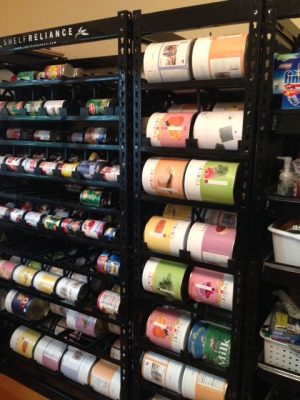 Freeze dried does NOT mean more expensive. In fact, I have found that I have saved a lot of money by using freeze dried because there is so much less waste! I have been using TONS of the vegetables and the prep time and cost is less.
You go to the store because you want to make some fresh salsa or guacamole. You pick up a very inexpensive handful of cilantro at $1.00/bunch. Cheap, right?! WRONG! How much of that cilantro are you REALLY using and how much are you throwing away? You probably use 1/4 of it or less, and the rest goes bad (and that's if you're making enough to feed a crowd)  That $1 bunch of cilantro actually costs you $4 bunch because you threw 3/4 of it away! Would you really pay $4 a bunch EVER? Well you just did, and I do it all the time with fresh herbs.
Freeze Dried Cilantro. It has the same flavor, texture, and nutrition as your fresh cilantro from the grocery store but it lasts, get this, 25 years sealed in the can and 1 year once it's opened! How can this be? Well, it's simple…. by taking the water out of the cilantro you've just increased its shelf life and reduced any chance of spoilage.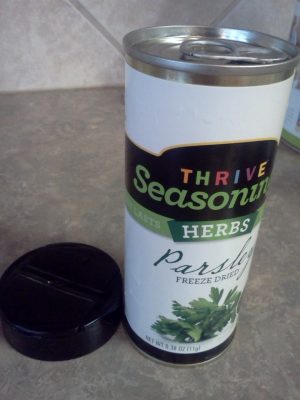 Check out these cool cans – little metal spice cans to keep freshness in, pop-top lid, with an oxygen absorber inside to added freshness. Just pop the lid and use JUST what you NEED and put the rest on your shelf.
You'll be amazed at how fragrant, and flavorful these spice are. When was the last time you bought a dried oregano that actually SMELLED like Oregano? Maybe it smelled that way for just a few months and then, what… nothing! You're literally putting a non-flavorful spice on your food just for the color, because you know as well as I do , that it doesn't have that fresh flavor anymore. What a waste!
FD Herbs
Parsley
Basil
Chives
Oregano
Cilantro
BLENDS
Italian Blend:oregano, basil, rosemary, thyme, marjoram, sage, and savory
Chef's Choice: Salt, Spices, Onion Garlic, Chili Pepper, Dextrose, Citric Acid, Sugar, Natural Flavor
Salad Seasoning Blend:parsley, garlic, chives, and onion
Peppercorn Blend: several different types of peppercorn and bell peppers
Go HERE for more information and to check out older Food storage Friday posts, go HERE.