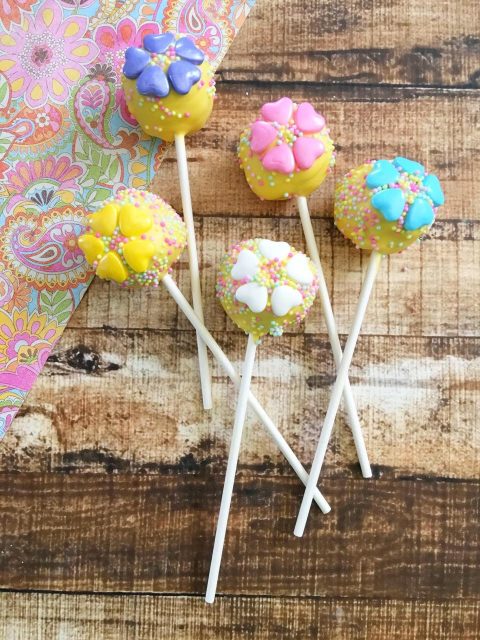 Flower Cake Pops Recipe
Cake Pops are SUCH a perfect bite-sized treat for a party!  They really make you look like you did something fancy, even though they're actually very  easy to make.  These Flower Cake Pops are an adorable treat for a summer cookout, girls' birthday party, or other celebrations.
I honestly think these would be SO PERFECT to hand out to teachers with a sweet note on Teacher Appreciation Day- no need to spend a ton of money!
Here's what you need to make these bite-sized cakes!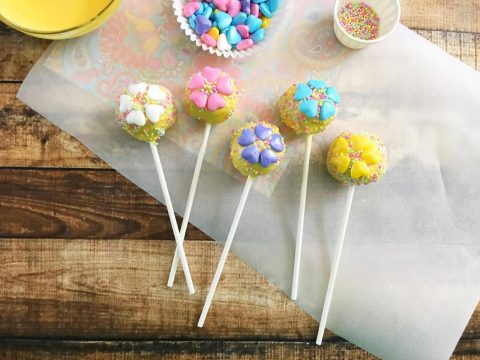 Flower Cake Pops
Ingredients:
Any yellow or white cake mix (calls for eggs, oil, water)
Pastel sprinkles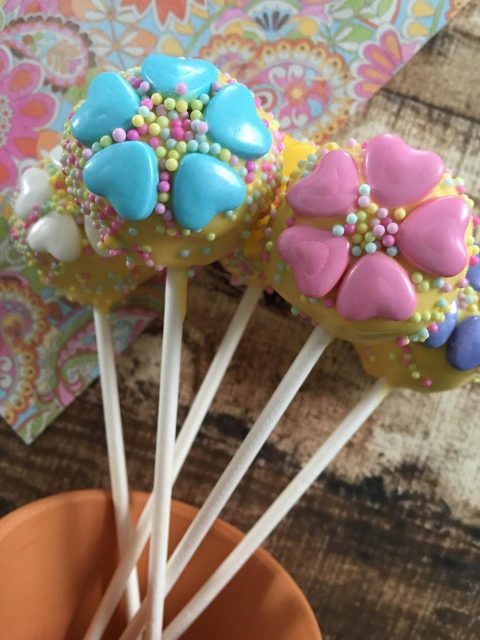 Directions:
1. Prepare your cake mix as directed on the box
(Usually calls or oil, eggs, and water)
2. Bake in a 9 x 13 cake pan
3. Scoop your cake out with a spoon into a large mixing bowl
4. Place your bowl of cake in the freezer for 30 minutes
5. After your cake has cooled, mix in your frosting
6. Use a tablespoon and scoop out enough cake mix to make a ping-pong sized ball
7. Roll your cake mix in your palms to form a cake
ball
8. Freeze your cake balls for 30 minutes
9. In a microwave safe bowl, melt your candy melts on 50% power for 3 to 4 minutes, stirring every 30 seconds until melted
10. Dip the ends of your lollipop sticks into your melted chocolate and into the bottom of your cake balls and let harden
11. Now dip your cake
pop
into the melted chocolate and twist until completely covered
12. While your chocolate is still soft, carefully press on 5 of your candy hearts to form a
flower
13. Now top off with pastel sprinkles and let your cake pops harden