The Fleishmann's yeast coupon is still there today, if you have not printed it, do it and try the pizza dough recipe below. You will be a rock star in your families eyes! We have this just about every Friday night, my kids hate bought pizza they like home made. Plus it is easy and doesn't take all night!
Go HERE and look under 90210 in "food" to find it!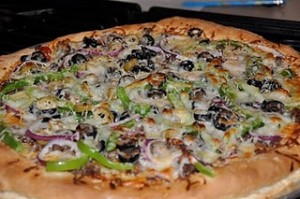 Homemade Pizza Dough (From Tiffany Ivanovsky)
1 1/2 c. warm water
2 tsp. Fleischmann's yeast
1 tsp salt
1 T oil
3 c. flour
For one pizza. Double for two. Dissolve yeast in warm water. Add salt, oil 2 c. of flour and beat until well blended and smooth. Add remaining flour to make a stiff dough. Knead until smooth and satiny. Do not allow to rise. Roll out very thin for crispy crust and pat out thicker for chewier crust.
Place in 500 degree oven, on bottom rack and bake about 5min. or until there are brown spots on the underside of the crust. Top will bubble and start to brown. Remove from oven and top with sauce and toppings. Lower oven to 425 and bake for another 15min.
You can see step by step instructions HERE.