Thanksgiving dinner should not be stressful in planning. Stick with the traditional, tried and true recipes that everyone loves. I got fancy one year and added all kinds of fruit and things to the stuffing. The entire family was looking forward to my sausage stuffing and would've even been happy with Stove Top, but were disappointed in my "fancy" dish that took 2x as long to prepare.
Make preparation easy for the hostess. If you are hosting, ask for help, ask what another quests "speciality" dish is and if they would like to bring it. If you are going to someone else's house, volunteer to make your favorite dish, or at least one you know your kids will eat 🙂
Go to the store NOW. Don't wait until the store is crowded and stock is sold out.
 The Turkey – We prefer ours fried. They are so juicy and crispy on the outside and they don't seem to have that weird turkey taste 🙂 Paul gave some good advice as well as what your cost will be at Walmart over HERE. 
:: APPETIZERS & BREADS::
 Olive Bread – This is a ridiculously good appetizer that we serve because it is easy and good! Plus, the kids can help and so can anyone visiting!

 Beer Bread – This is the best "bread as a side dish" you can possibly have! I just recently posted this recipe and it is made with only 4 ingredients. You will fall in love!
 7 Up Biscuits – Light and fluffy and easy to make, these are just like the ones you get from restaurants!
::SIDE DISHES::
 Broccoli Salad – This is another family favorite and also one that you can make the day before. Have the kids help you cut everything up and toss it in the fridge for the next day. Just add the dressing when you are ready to serve!
Sausage Stuffing – This is pretty much the reason to have Thanksgiving dinner! I eat about 1/2 the pan making it! Give it a try if you have not done it before!
 Acorn Squash – Another SUPER easy, awesome side dish! Who doesn't like bacon and brown sugar?!
::DESSERTS::
Chocolate Caramel Cake – Otherwise known as "Better than S*$ Cake!" Easy, good, and with so many variations, you can please anyone!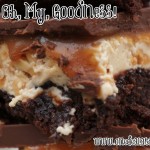 Snickers Brownies– Pretty much as good as they sound. This might be the most complicated recipe but it is the most worth it!
Most importantly, relax and enjoy your family!
You may also enjoy:
Oster Roaster Oven with Self-Basting Lid | 22 Qt, Stainless Steel
Electric roaster oven accommodates turkeys up to 26 pounds

Self-basting lid continually recirculates moisture

Versatile electric roaster bakes, slow cooks, roasts, and serves

Dimensions: 23.3″ L x 15.6″ W x 11.8″ H

Roasting pan and rack are removable for easy cleanup
Maple Leaf Place Mats Fall Placemats Set of 6
Vinyl

Spill-proof mats

12″x18″, pack of 6.

Heat Resistant and Durable
Nut Bowl Snack Serving Dish – Ceramic Squirrel
Subtly glazed to a high finish

Diameter: 6.3″; height: 4.7″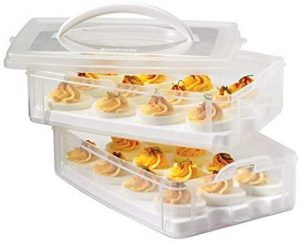 Snap 'N Stack 2-Layer Food Storage Container with Egg Holder Trays
Two Removeable egg holders hold up to 24 eggs

Stackable trays keep food items separate and organized

Additional trays can be added or removed to customize the carrier as needed

Bpa-free polypropylene container and lid are microwaves, freezer, and dishwasher (lid top-rack only) safe
Making the most of your shopping this year? Don't forget to: 
Compare prices to Amazon (Amazon may have changed their price since we posted this!  They frequently change prices to match the major retailers)