We are packing for a camping trip. One of the first places that I go for supplies is the Dollar Tree. Obviously they are going to only be $1, and if I end up not coming home with something it isn't the end of the world.
But I am always pleasantly surprised with the items that they have there.
Today I found $1 little girls swimsuits! YEAH!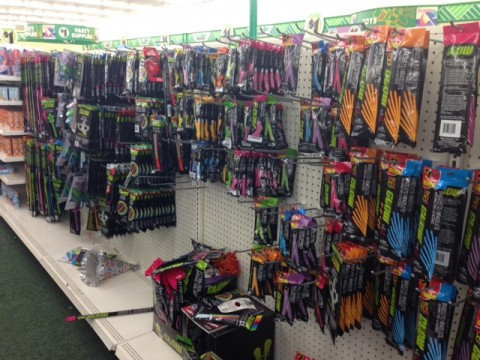 I also found an entire wall of glow sticks. This might not make you as a Mom get all excited, but I can tell you for my kids when they are camping and I pull out glow sticks, all of a sudden I am a rock star!
Walmart carries them for $1.88 – up to $5 for the SAME styles and kinds! SCORE!
I also buy all my camping (well and stuff for my home kitchen as well!) cooking supplies from Dollar Tree. We have lost so many to camp fires, in the river and forgetting them that I never want to be sad if something gets ruined because I paid a lot of money for it.
Plus, the quality is good!
I will have a few camping posts coming up in the next little while how I get ready and pack for a trip.
Hefty Slider bags can be found at both Dollar General and Dollar Tree for just a $1. At Dollar General, check the $1 section instead of the paper/plastic ware.
Hefty Slider Bags $1
$1.00 off TWO (2) packages of Hefty Slider Bags
Final Price $.50 each WYB 2