This week the deals at HEB are really VERY good! But some of you have said that the Chex 5 for $5 is not in your add or on sale at your store. HEB is known to do this… SADLY. Prices and sales will be different even in different zip codes in the same city. If you go to HEB's website, and type in my zip (77380) and look at the ad you can see…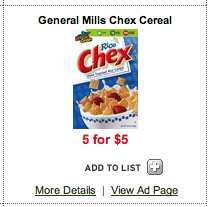 What can you do if you don't have this deal?
Make a trip to The Woodlands 🙂 Not fun for cereal I know…
OR check and see if your store will price match another HEB. Now, it does not mention anything in the HEB coupon policy about price matching. HOWEVER, many readers are able to price match other HEB's at their stores, by showing the manager the ad or pulling up the HEB website and showing them the sale. I would suggest asking your HEB manager in your store if they will do this the next time you are in. Because this is a really good deal on cereal: 
Chex Cereal 5 for $5
Use $1/3 Printable coupon HERE
Total: $.66 each WYB 3!