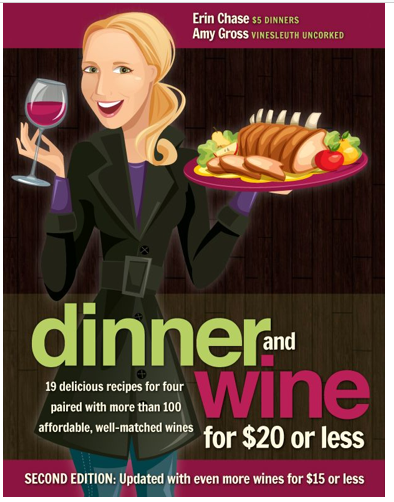 My awesome friends Amy Gross and Erin Chase have a really cool book they co-authored that is called Dinner and Wine for $20 or less. It is FREE today on Amazon!!
Amy Gross is a local Houston resident and many of you met and heard Erin Chase speak this fall at my conference. Remember that Erin was pregnant? She had her little baby boy last week!
Book Description
Publication Date: January 17, 2013
Looking for great cheap dinner ideas (that are easy to make and don't taste cheap) paired with inexpensive wines? Dinner & Wine for $20 or Less matches 19 easy-to-make delicious dinners for four that can be made for $5 each, with more than 125 fantastic, affordable and easy-to-find wines for just $15 or less per bottle.
Each recipe in Dinner & Wine for $20 or Less was developed by cookbook author and mom blogger $5 Dinner Mom, Erin Chase, and paired with wines by a team of winelovers.
Recipes include:
Chive-Crusted Beef Roast with Creamy Horseradish-Chive Sauce
Crockpot Country Ribs with Mashed Potatoes
Beef Stroganoff
Grilled Sage Chicken Packets
Italian Stuffed Shells
Tilapia Scampi
and wine and chocolate pairing tips
Plus, the book features a photo index of the wines featured in the book for even easier shopping.
Go HERE to get yours!
Remember that you do not have to have a Kindle to get all these awesome FREE e-books. You can read them on most of the devices that you already have! Go HERE to get the app!
If you are interested in Kindles: