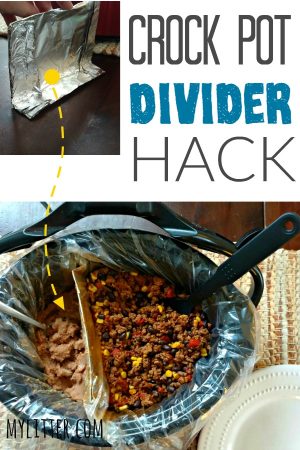 Crockpot Divider Hack
There are so many times when I'm using my crock pot for the main dish – and I wish I could split it in half to keep a side dish warm as well.
Or making my Mexican Cheese Dip and wishing I could do another dip at the same time.  Or if we're having a Potato Bar night and I want to keep a couple toppings to keep hot….. you get the idea – I needed a hack!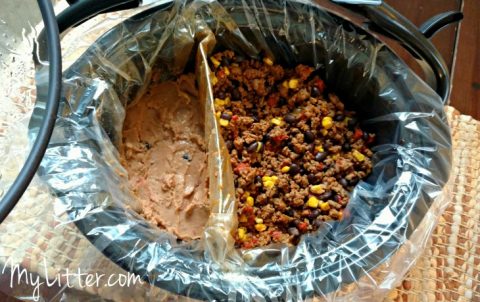 Well here's a nifty trick I've started using to make my crockpot do double duty!
Take aluminum foil (any kind – it doesn't have to be super heavy duty) and tear off a nice long sheet.  Fold in half about 3 or 4 times to give it strength – you want it the size of a sheet of 8×10 paper.
Now find a piece of cardboard that will fit easily inside of your crockpot (one that reaches from side to side). You can cut this cardboard from the back of a cereal box, an Amazon box flap, an old notebook – just whatever you have lying around.

Fold the aluminum foil in half around the cardboard and then fold the sides in around it as well.  Form a "foot" at the bottom that sticks out an inch or two.

**This is essential to making sure your divider stays standing – because the weight of the contents will sit on the foot and keep it in place.

Place the divider in your crockpot and insert a slow cooker liner around it. The liner keeps anything from seeping from one side to the other. Luckily they make those things huge – so there should be enough extra to accommodate your divider just fine. 🙂
Fill each side with your preferred contents and you're ready to serve some buffet style dishes!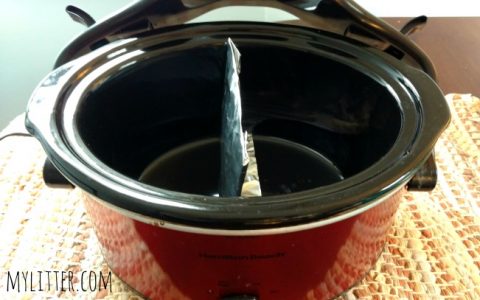 I love to use this when we're having taco night.  I cook the meat on the stove and then put it in the crock pot on low to stay warm a couple hours before supper.  I fill the other half with refried beans (straight from the can) and a little water or milk to make them creamy.  It saves me from dirtying an extra pot, which makes me happy.
Best part is at the end of the meal – when you just lift the dirty slow cooker liner out, toss it in the trash, and your slow cooker is still clean as a whistle!  This DIY divider is reusable for several times I'd imagine.
Do you have any slow cooker hacks that you like to use?  I'd love to hear about them!
Here are a few slow cooker recipes you may want to try out:
Mississippi Chicken Crockpot Recipe
Fiesta Chicken Crockpot Recipe