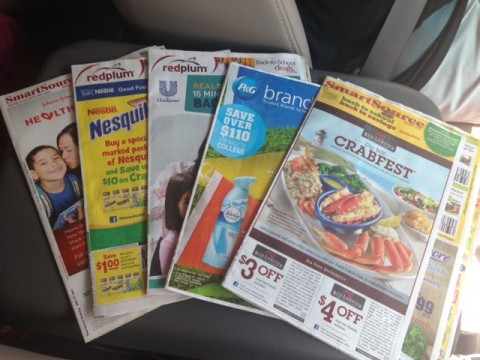 This week, the coupons are AWESOME!!! We have two possible money makers at Walmart and TONS of other hot high value coupons!! Check out the whole list below. This is your week to buy papers! Check out the new additions to the Walmart Under a $1 List!
Each week at I Heart The Mart, Paul writes up a color coded printable list matching up all the Sunday insert coupons with the items at Walmart so you will know what you are spending.
Head on over HERE to check out the entire printable list!
BLUE = FREE At Walmart
RED = 40%+ off or Under a $1
GREEN = 30%+ off or Better
Top 10 Coupons from the Sunday Inserts In Alphabetical Order:
BIC Disposable Razors, 12ct – $2.68
$3/1 BIC Disposable Razor, exp. 8/23/14 (SS 07/27/14)
Total: FREE
Febreze Air Effects – $2.97
B1G1 Febreze Product, exp. 8/10/14 (P&G 07/27/14)
Total: $1.49
Gillette Shave Gel – $1.87
$1/1 Gillette Shave Gel, exp. 8/31/14 (P&G 07/27/14)
Total: $0.87
Mitchum Deodorant – $2.97
$2/1 Mitchum product, exp. 8/31/14 (SS 07/27/14 #2)
Total: $0.97
One A Day – $4.94
$3/1 One A Day Product, exp. 9/20/14 (SS 07/27/14 #2)
Total: $1.94
Rachael Ray Nutrish Soup Bones Dog Treats – $3.48
B1G1 Rachael Ray Nutrish Dog Treats, exp. 10/27/14 (SS 07/27/14 #2)
Total: $1.74
Revlon Nail Files or Nail Clippers – $1.97
$3/1 Revlon Nail Product, exp. 8/9/14 (SS 07/27/14)
Total: FREE
Speed Stick Gear Antiperspirant/Deodorant – $2.98
B1G1 Speed Stick Gear Antiperspirant/Deodorant or Body Spray, exp. 8/16/14 (SS 07/27/14)
Total: $1.49
St. Ives Fresh Hydration Lotion – $11.88
B1G1 St. Ives Fresh Hydration Lotion, exp. 8/10/14 (RP 07/27/14 #2)
Total: $5.94
Vidal Sassoon Shampoo or Conditioner – $2.47
$3/2 Vidal Sassoon Shampoo or Conditioner, exp. 8/31/14 (P&G 07/27/14)
Total: $0.97