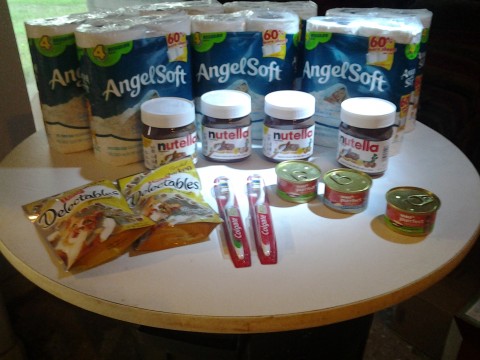 Reader Dorothy sent me over her price matching trip to Walmart, she did an awesome job! I am so glad she did because I have been wanting to remind you to not forget to price match! There are so many reasons to price match, mostly just to save you some time.
Dorothy got everything for $9.90 including tax!!
I price-matched the Angel Soft to Foodarama at $0.69 and used  the $0.45/1 (Feb 2 insert I think) to make each package 24 cents each!
I price-matched the Colgate to Foodtown at $0.44 and used the $0.50 coupon from yesterday's SS insert, so I made 6 cents on each one.
I price-matched the Nutella to Kroger as our Kroger has been out since Thursday and i really wanted some Nutella.  Then i used the BOGO coupons.
I used the $2/3 online coupon for the Iams cat food ($0.58), making $0.26 in that transaction.
And lastly I used the $1/2 coupon from yesterday's SS on tthe cat treats, which were priced $0.94 at Walmart, i got those for $0.44 each.
Unfortunately Walmart doesn't list the original prices on the receipt, so I don't know exactly how much I saved, but it was well over 50%.