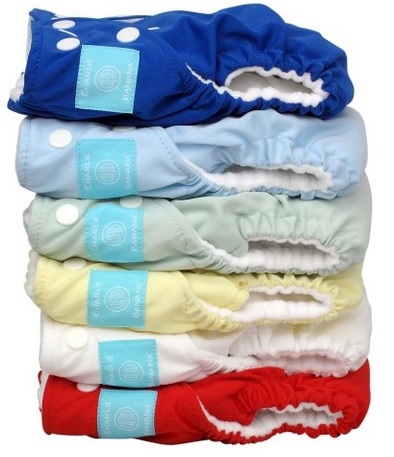 If you're considering cloth diapering your little one on the way – or are looking for an awesome baby shower gift – then head to Target.com where you can snag this Charlie Banana Reusable Diaper Pack with 6 diapers AND 12 inserts for only $79.99 shipped!
Eco diapering is at its best with Charlie Banana Reusable Diaper 6 Pack One Size in assorted colors. Use a washable insert or a disposable insert and a Charlie Banana diaper and you get a hybrid system that you can change to suit the situation. The leak-proof diapers are as reliable during the day as they are during the night and can easily be adjusted to your child's growing body for the best comfort possible. The soft fleece layer helps to keep your baby dry and rash free while giving them a soft place to sit. The beautiful colors of these diapers let you match them to favorite outfits and they'll retain their vibrant hue through multiple washes.
This set is normally priced at $109.99, but through tomorrow (Saturday, June 25th), you'll get a FREE $25 Target gift card when you make a $100+ select baby care purchase which will be automatically added to your cart.
You can also save an extra $5 off this diapering set by using code TGT56NH5 at checkout. And this item ships FREE!
That means the entire set will work out to just $79.99 shipped after coupon code and gift card.
The gift card offer is only valid through June 25th, so head to Target.com now and scoop up this deal!
Check out more Target deals while you're on My Litter!