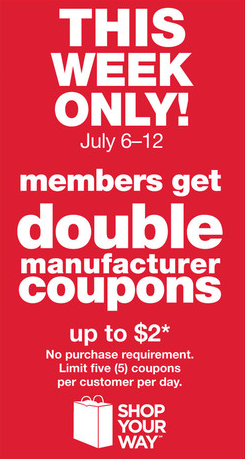 Kmart is doubling coupons this week! Now what makes this even better is they are doubling coupons UP TO $2.00, so a $2.00 coupon actually becomes a $4 coupon, how awesome is that!?! Sadly we don't have a Kmart near us but for those that do we'd love to see your hauls. It does look like they are limiting it to 5 double coupons per day, so plan your trips out.
Here are a few deals to help start your list:
Tide Pods or Gain Flings 16ct $5.49
-Use $2.00/1 Tide or Gain Flings P&G 7/6
Total: $1.49
Downy Unstoppables or Gain Fireworks $5.49
-Use $2.00/1 Downy or Gain P&G 7/6
Total: $1.49
Herbal Essence Body Wash $1.99 (Only select scents)
-Use $1.00/1 Herbal Essence Body Wash coupon
Total: FREE
Pampers Super Pack Diapers 54-128ct $23.99
-Use $2.00/1 Pampers Diaper coupon (under zipcode 77477)
Total: $19.99
Tide Oxi Multi-Purpose Stain Remover 7.12lb $9.99
-Use Buy 1 Get 1 Free Tide Oxi  P&G 7/6
Total: $9.99
Febreze Air Effects $2.50
-Use $1.00/1 Febreze P&G 7/6
Total: $0.50
Make sure if you're buying Tide, Downy, etc to redeem your P&G Rebate for the Spend $30 Get $10 Cash Back from P&G Offer!