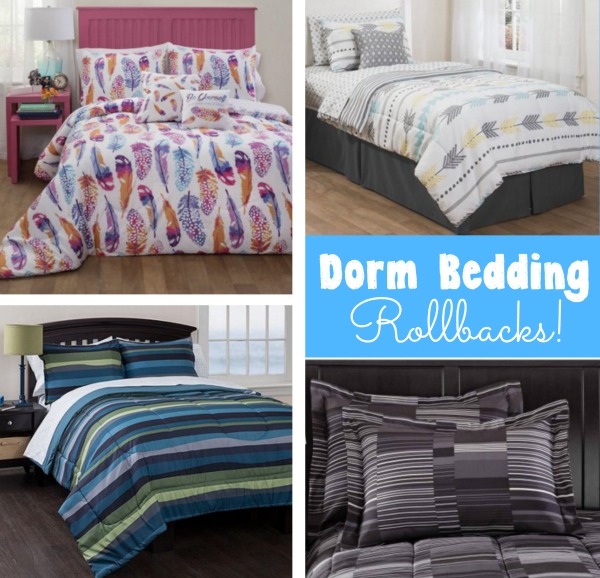 Right now you can score some nice deals on College Dorm Bedding Sets at Walmart!  LOTS of them are on Rollback as well as other dorm essentials!
These are complete, reversible Bed in a Bath sets that include sheets, pillowcases and comforter – all for a great low price. (Some are as low as $29.98 for a whole set!)
And okay sidenote – this one isn't exactly a DORM bedding set, but I wanted to throw it in there too because it's pretty great….
This Pirate Kids Bed in a Bag Set is only $19.88 (Reg $34.99!) right now and would be so cute in a little boys' room!  It includes the reversible comforter, those ADORABLE sheets and a pillowcase and decorative sham!!
Ok – back to dorm stuff….
In addition to all the bedding set rollbacks – check out these other great dorm room deals….
**You don't even need to be college-bound to get excited about these rollbacks.  I think this is a good time to freshen up a teen's bedroom or outfit a guest room with new linens.  OR just splurge on a fun little thing for yourself!
TONS of fun Dorm Room Decor Rollbacks that you can use to update your own home decor a little.
Lots of times just a new set of trendy curtains, a couple throw pillows or a fun shag rug can really make a room feel different without having to spend a ton of cash on pricey updates.  And for your bookworms – those nice reading pillows are only about $12 right now – they make great gifts along with some new books for a birthday!
See various Futon Rollbacks from only $98!
The classic metal arm futons are the cheapest – but even some quality furniture pieces are deeply discounted right now – making them great for a first apartment or a basement guest room.
See Dorm Refrigerator Rollbacks from as low as $59!  Also check out Dorm Microwaves on sale from $35!
These are also good ideas for outfitting for a mancave 😉
And Student Desks on sale from $35!
I really love the one pictured above – it's clean and contemporary looking and has a couple good sized cubbies for baskets/knicknacks.
And if you're needing a cute new rug to freshen up a living room – back to school clearance time is the BEST time to get one.
Check out all of these AND the College Dorm bedding sets walmart has on rollback over here!