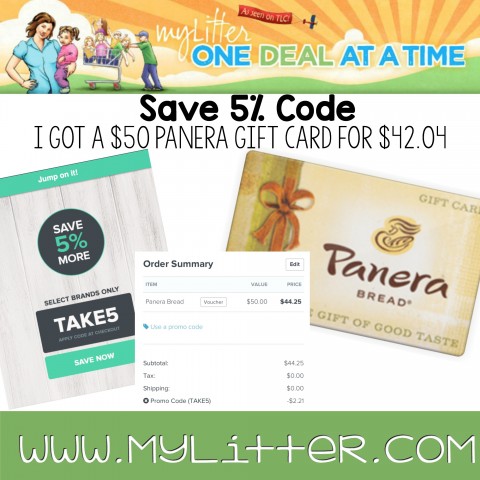 I am traveling a lot this week! Can't wait to see you Tennessee couponers! Anyway, this is what *I* do when I travel to save a little bit of money.
I joined Raise, which is where you can get discounted gift cards. When you join through this link you automatically get $5 credit. Then I search for gift cards to somewhere that I know I am spending money.
For example before I go to a movie, I buy a gift card to the movie theater I am going to. Or if I am going to Kroger, I buy a Kroger gift card, it is just a way to save a little bit more money.
This week I bought a $50 Panera gift card, because I know I will be eating there a lot this week, the card cost me $44.25 and I used coupon code TAKE5 to get an additional 5% off. Paying just $42.04 for a $50 gift card I know I will be using anyway.
If you were a new member you would have got it for only $37.04 with that $5 credit.
Sign up HERE, give it a try, you will love it!

TAKE5 – This code only applies to iTunes, Victoria's Secret, Toys"R"Us, Banana Republic, Old Navy, AMC Theatres, AMC Theatres (In Theatre Only), Google Play, Bass Pro Shops®, Gilt, Charming Charlie, Michaels (Online Only), Michaels, The Honest Company, H&M, Taco Bell, Panera Bread, Ross, Ross (In Store Only), Aeropostale, Gap, Cold Stone Creamery, Cole Haan, Applebee's, Zumiez, and Bath & Body Works.
Ends at Midnight TONIGHT!