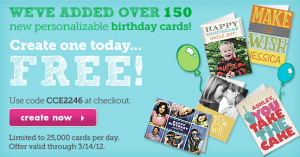 You can get a FREE card and FREE shipping from The Card Store on any card right now!  It just takes a second to make one and someone will really appreciate it! Limit 25,000 cards per day till 3/14/12!
This is how to get this deal:
Head over to Cardstore.com and create an account.
Make your free card and add to your shopping cart.
Enter  Coupon Code CCE2246 at checkout
Confirm that the discount has been applied prior to purchase.