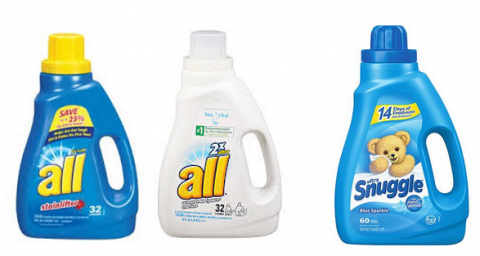 If you are needing laundry detergent or fabric softener for your stockpile, you won't want to miss this terrific buy on All Detergent and Snuggle Fabric Softener running at CVS this week! It will be only $1.99 a bottle!
Head into CVS now through Saturday 9/5 to score this deal:
All Laundry Detergent or Snuggle Fabric Softener $2.99 (Limit 6 total between the 2 items)
-$2.00/2 All brand Laundry Product or Snuggle Product – 8-2-15 RP; Excludes Trial Size; Includes Fabric Softener, Detergent, and Boosters (exp 09/13/15)
OR $0.50/1 Snuggle Product; Excludes Trial Size
OR $0.50/1 Snuggle Exhilarations Fabric Softener  (if included)
Final Price: $1.99 each wyb 2!
~~~~Need more coupons?Check out these~~~~