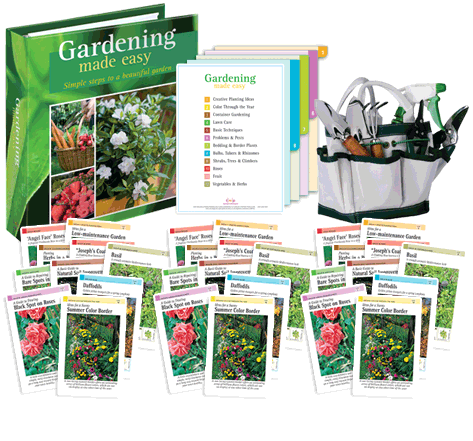 There is a pretty cool deal you can get right now, that goes PERFECTLY with the cedar raised flower/veggie beds I posted about earlier! You can get the Gardening Made Easy Binder collection + Free gift for $5.99 + $2.99 shipping HERE.
The Deluxe Binder contains 3 sets of how-to cards packed with step-by-step instructions, specialty tips and full-color photographs.
Plus you are also going to get free a gardening set, that includes a trowel, snippers, pruners, spray water bottle, cultivator, transplanter, and canvas tote!
You will want to do this deal for the binder. The tools are not the highest quality ( what do you expect! :)) The information in the binder is tried and true. We had a friend order this YEARS ago and still uses the binder yearly and all the neighbors borrow it.
My plan is to get the binder, because that is what I really want. I will give the kids the tools and since I ordered a cedar bed, I will let the kids have their own project this summer and I think we are going to try and grow our Halloween pumpkins for October!
Go HERE to get yours!
::UPDATE::
I got mine in the mail this weekend! I LOVE the binder and as we thought the free tools are really better for kids. I am handing mine off to my sons preschool class who are building a garden.
They say the value is $72, I am going to say it is more like $30. I am happy with the $9 I spent!