HOW FUN ARE THESE???
Today on Zulily snag some great deals on outdoor fun items – especially if you take advantage of the current $10 off $20 discount for using Masterpass at Checkout!
(Just search "Outdoor Play" to find the Prepped for Outdoor Play event)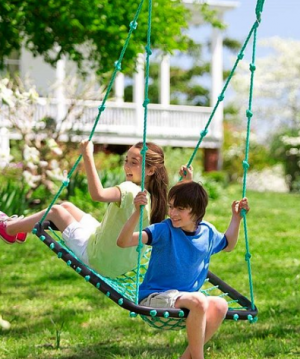 Like this Hearthsong Deluxe Platform Swing is on sale for $79.99, and will be only $69.99 after $10 Masterpass Coupon.  Compared to Amazon's price of $129 this is a great deal!
Or snag this huge 12′ Hearthsong Parachute with Handles for the kids for just $11.99 after $10 Masterpass Coupon.  That's SUCH a good deal compared to Amazon's price of $30 Shipped.
And check out these Top 10 Parachute Games for Kids for some fun backyard play ideas!
Check out a million other fun deals here  – from sandbox shovels to gigantic balls for the trampoline and family floats for the lake!
Want the most of your Shopping this year?